« continued from previous page


Sunita & Ashutosh Gowariker: Complements to each other!
Sunita, do you have any financial background?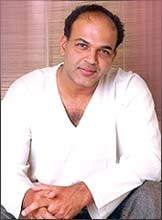 Ashutosh: Not at all, but she has an amazing sense of money matters, as I have learnt in our 16 years of marriage!

Sunita: I must admit that my father-in-law has a large part to play in my financial abilities. I also could take up the role of executive producer only because my in-laws stay just a floor below us and were wonderful enough to look after my sons Konark, aged thirteen, and Vishwan, aged eight. I also planned things in such a way that during the Wai schedules that form the bulk of the film, I was in Mumbai for three days and on location for three. The location is about four hours' drive from Mumbai. Also I had the support of Mr Srinivas Rao, who was my online producer. And Ashutosh and I had decided that our office must be very close to our home, so that if there was an emergency I could reach home in five minutes.


But surely there must have been an overlap.
Sunita: Well, he does sound his ideas across to me. But Ashutosh wanted to be left alone for the creative angles. To date, even after the film is released, Ashutosh simply hasn't a clue about the figures!


Click to zoom stills from Swades
There seems to be a comfort zone with A.R.Rehman and Javed Akhtar.
Ashutosh: At the time of Lagaan, it was a different ballgame. Aamir had recommended me, Rehman and Javed Akhtar-saab were big already, but they were like, 'What's this guy going to do? Will he be good?' This time round, yes, there was a comfort zone.

But you have extracted his best score since Lagaan.
Ashutosh: I think that it is the situations that generate the lyrics, the music and the orchestration. A music director needs this organic kind of inspiration and excitement to work well.

You are on the Oscar board. Does that mean you are on the jury?
Ashutosh: I have been chosen as a member of the Directors' branch of the Academy. My privileges include access to their library of films, special screenings, exclusive other privileges and being a voting member. This means that I will be watching and voting on American films sent home on DVD to me.


Rajiv Vijayakar
Wills Lifestyle Casual Top For Women
Pink Printed Tunic
Cotton Kurta with Gold Print
Rs.1,000 ($20.77)
Rs.1,395 ($28.98)
Rs.2,135 ($44.35)
Rs.769 ($15.97)











Ask our Experts :
Expert Advice, Personality, Immigration (US), Tarot, Hot Couture, Body Care, Matrimonial Laws, Sexual Health, Life, etc, Man vs Woman, Fitness.