Sunita & Ashutosh Gowariker: Complements to each other!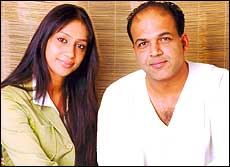 He is the Lagaan man, having just released his most passionate movie as writer-director, Swades. Ashutosh Gowariker admits that the film would not have made unless wife Sunita was there to produce it, and the couple managed to make and release a Shah Rukh Khan film shot in USA, Delhi and Wai (near Pune) in less than two years.

In an interface with ShaadiTimes the pair talk about themselves, their film and their perfect symbiosis.

Are you satisfied with the response to the film?
Sunita: Most of the critics have been very positive. As for the people, there are mixed reactions because the film is not a masala entertainer and takes time to grow on you. Like this friend of ours who did not like the film after watching it, told us so, and two days later called us to say that she has been thinking about nothing but the film since then!

Ashutosh: Swades as a format has nothing new. Reverse migration as an issue that is commonly dealt with. But we have given a fresh perspective to this whole theme, and that is why my protagonist had to be a NASA employee and not a mere NRI. It is a thought-provoking film.

There are still people around who think that Aamir Khan ghost-directed Lagaan. Ashutosh, is that why you felt the need to work with an actor who was not a backseat director?


Ashutosh: No, it's nothing so complex. Shah Rukh Khan wanted to do Lagaan originally, but at that point of time he was doing a different kind of cinema and somehow it did not happen. Aamir, who had heard my script earlier and had declined, later called me up for another hearing and then found it worthy of not only doing it as an actor but also producing it. So Shah Rukh and I were always open to working with each other and I thought that he was right for Swades and he liked my script.

As for Aamir directing Lagaan, those who believe that will continue to think so even if Swades works. Let us face it, Aamir Khan is known for his total involvement in any project. It is natural for him to get the credit for Lagaan in view of the fact that he was also producing that film. But even Shah Rukh is very concerned about the complete product. You cannot isolate one person for a film's success, though you can isolate one person for its failure - the director!

You said in an interview that you made Swades only because your wife was with you.
Ashutosh: Yes, I wanted the kind of free hand that Aamir gave me for Lagaan, which was only possible if I produced my film. And I needed Sunita by my side. Only when she agreed to be there did I launch our banner.


Click to zoom stills from Swades











Ask our Experts :
Expert Advice, Personality, Immigration (US), Tarot, Hot Couture, Body Care, Matrimonial Laws, Sexual Health, Life, etc, Man vs Woman, Fitness.

Copyright © 2021 Shaaditimes.com - A relationship and wedding portal by Shaadi.com. - All Rights Reserved.
Terms and Conditions