Abhay Deol and Preeti Desai to get engaged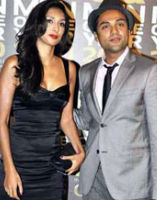 Bollywood actor Abhay Deol has finally learnt the art of wearing his love up his sleeves. The 'Dev D' Deol is set to give his long-time relationship with actress-model and Miss Great Britain 2006, Preeti Desai, an official tag and is set to get engaged in a private ceremony soon. The engagement is due to happen later this month or in June.

Model-turned-actress Preeti Desai made her Bollywood debut with 'Shor in the City' recently. They met in 2009 during the success party of 'Dev D' and hit it off instantly. Preeti is of Indian origin and was crowned Miss Great Britain in 2006.
There were rumours of the couple's engagement in March 2011, but looks like Abhay and Preeti are now ready to take the plunge. While Abhay and Preeti are said to be living-in for quite some time, the two seems to have marriage on their mind.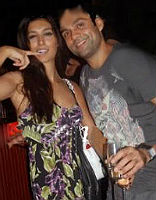 Not so long ago, Abhay Deol was spotted with his girlfriend Preeti Desai at a Mumbai nightspot. Surprisingly, instead of shying away from the media, the much-in-love couple looked like they were out to paint the town red with their love. Abhay was spotted in casual attire with drinks for company to keep up the mood, while leggy lass Preeti Desai looked ravishing in a short printed dress.
Last year, lovebirds Abhay and Preeti attended the GQ awards night hand in hand. Abhay made a rare appearance with ladylove Preeti Desai in tow. That was the time when Abhay made it public that he is dating Preeti Desai.
Sometime back, the madly in love couple, Abhay and Preeti, were also spotted together at a party, and that was Sendhil Ramamurthy's (her co-star in 'Shor In The City') bash where Preeti was wearing a little black dress.

The 'different' Deol, Abhay and ravishing beauty, Preeti look great together. Here's a toast to the new 'it' couple in B-town.