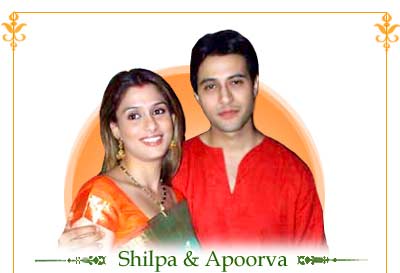 28th June, 2004


My hometown, Dehradun in Uttaranchal


Apoorva Agnihotri


I wore a traditional red, heavy lehenga with lots of embroidery and diamonte work. Apoorva wore a formal designer suit.


Love


6 months


Apoorva gave me a solitaire and I gave him a diamond embedded platinum band.


He is the perfect soul mate. My true companion and a very, very good friend and now that we've got married he's been a great husband as well!


Actually, we had the wedding in Dehradun as my Dadi and Nani were not able to come to Mumbai. So, we had to organize the wedding in Dehradun, which proved to be very expensive as all our friends and relatives flew down from Mumbai and Delhi to be there.


A traditional Ghadwali wedding


Nothing, it was all so romantic and unbelievable, there's nothing unusual, which happened. The wedding was rocking!


A shaaditimes feature
Cotton Kurta with Gold Print
Applique Work Stripes Kurti
Wills Lifestyle Casual Top For Women
Rs.1,000 ($20.77)
Rs.1,380 ($28.67)
Rs.769 ($15.97)
Rs.1,200 ($24.93)
Rs.1,495 ($31.06)











Ask our Experts :
Expert Advice, Personality, Immigration (US), Tarot, Hot Couture, Body Care, Matrimonial Laws, Sexual Health, Life, etc, Man vs Woman, Fitness.