Starry Sangeet Night For Vineet Mittal


As is typical of Page 3 weddings, this sangeet was no different! Vineet Mittal, President and MD, Stream International Services, and Sindoor Thakkar celebrated their sangeet in the midst of many stars. The night was fun filled with stars like veteran actor Dev Anand joining the fun. Emraan Hashmi was there with rarely seen wife Parween and Jackie Shroff made an appearance in his latest bandana look.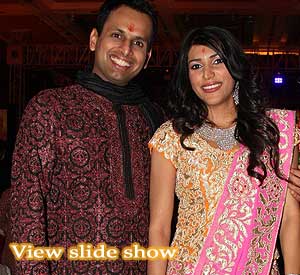 The music and songs were taken care of by famous DJ Aqeel and singer Shaan. The ceremony started off with a chanting ceremony by priests, after which Vineet's best buddies Nimish and Sonali Arora kick started the song-and-dance affair with a special choreographed song that had dance performances by Shonali Nagrani, Shaad Randhawa and Arzoo Govitrikar.

The night also saw Gayatri Joshi with hubby Vikas Oberoi. Shraddha Nigam (who seriously needs to learn when and where what to wear) dressed in ugly grey outfit for a sangeet night. The bride and groom's parents (Rajkumar and Santosh Devi Mittal and Parashar and Shobha Thakkar) warmly welcomed the starry guests.


A shaaditimes feature
Wills Lifestyle Casual Top For Women
Wills Lifestyle Casual Denim For Men
Wills Lifestyle Casual Top For Women
Rs.1,395 ($28.98)
Rs.1,695 ($35.21)
Rs.1,495 ($31.06)











Ask our Experts :
Expert Advice, Personality, Immigration (US), Tarot, Hot Couture, Body Care, Matrimonial Laws, Sexual Health, Life, etc, Man vs Woman, Fitness.