In Pictures: Rani's New Look

Rani Mukerji's colourful looks in her forthcoming film Aiyyaa...

Actress Rani Mukherjee will be seen doing some item numbers in her fothcoming film Aiyyaa and that includes some fun moves like belly dancing, a south Indian dance number as well as 'lavani'. Sounds like fun, doesn't it? You'll see her in colourful outfits in the film including hot pinks, deep turquoise, red and oranges. And no, just in case, you're thinking she's trying to make a comeback with a similar role that Vidya Balan played in The Dirty Picture, you're wrong!

Watch the trailer and you would know that she's at her best in the film. Aiyyaa is about a woman who finds a man desirable because he smells good. (Not unlike all those perfume commercials that seem to be all the rage on television these days!) Rani plays a Marathi girl who falls for a Southern hunk, Surya (played by Prithvi Raj) and then proceeds to unabashedly stalk him, much to his annoyance. Produced by Anurag Kashyap and directed by Sachin Kundalkar, the film is all set to release on 12 October.
Here's a sneak peek at Rani's colourful looks in Aiyyaa...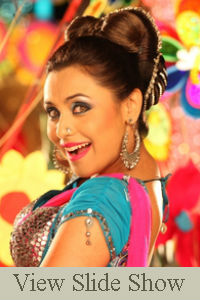 Vipasha Pillai
Spykar's Denim Jeans For Women
Pink Printed Tunic
Applique Work Stripes Kurti
Rs.1,999 ($41.52)
Rs.1,380 ($28.67)
Rs.1,899 ($39.45)
Rs.2,135 ($44.35)
Rs.1,200 ($24.93)











Ask our Experts :
Expert Advice, Personality, Immigration (US), Tarot, Hot Couture, Body Care, Matrimonial Laws, Sexual Health, Life, etc, Man vs Woman, Fitness.