5 Types of Men in Every Woman's Life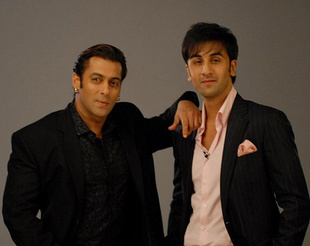 We women have different types of men in life, whether we're single or married. We mean, someone who's extremely sweet, someone who's very rebellious or someone very understanding and trustworthy or even those who're boyfriend material. We list down 5 types of men every woman has in her life...

The Chocolate Boy
Right from his utterly kissable lips to his cute dimpled smile, you think everything about him is just perfect. He's cute to look at, he humorous, sweet and most importantly sexy, but he is also totally more manicured and better looking than you are. This kind of a boy is best for women looking for a short-term relationship.
Best Example: Ranbir Kapoor

The Bad Boy
He's rebellious, prefers to live life on his own terms and only for himself. He's the type who will never pull out a chair for you, open car doors or bother to take you to a fancy place just so that you're happy. He only cares about himself and wants his own space in a relationship. Freedom is something he loves and wouldn't like you interfering much in his life. Often self destructive, he can be dangerous and hard to resist.
Best Example: Emraan Hashmi and Vivek Oberoi

The Nice Guy
He's one of those guy every woman would want to have. He's that Mr Nice Guy, who's always there for you. He cares for you and is a lot different from other people you know. He's someone who makes you feel special, even if you aren't seeing him. He's the best company you can have, as he always makes you laugh more than any other person you know. He does not play hard to get and genuinely respects you. We all want a Mr Nice Guy in our life, don't we?
Best Example: Madhavan and Aamir Khan


The Boyfriend
He's the guy who leaves you romantic notes around the house or workplace. Closest to being the answer to your prayers, he reminds you a little bit of home - the boy you can proudly show off to your mother. He's romantic, sweet, cute and handsome and boyfriend material. Someone you know, your mom can never reject.
Best Example: Salman Khan and John Abraham

The Father Figure
Strong and sensible, he's the man who you can always rely on. Whether it's a personal matter or some career advice that you need, he's always there to support you. He's trustworthy and loves you unconditionally.
Best Example: Anil Kapoor

Vipasha Pillai
John Players Signature Line T-Shirt for Men
Applique Work Stripes Kurti
Spykar's Denim Jeans For Women
Rs.1,380 ($28.67)
Rs.1,999 ($41.52)
Rs.1,095 ($22.75)
Rs.1,200 ($24.93)
Rs.1,899 ($39.45)











Ask our Experts :
Expert Advice, Personality, Immigration (US), Tarot, Hot Couture, Body Care, Matrimonial Laws, Sexual Health, Life, etc, Man vs Woman, Fitness.