Ambani's Big Fat Bash

We all know that Mukesh and Nita Ambani need no reason to party, but this time the couple hosted a lavish party on 26 March at their home - Antilla in Mumbai for master batsman Sachin Tendulkar. Wondering why? For scoring his 100th hundred in the Asia Cup match against Bangladesh recently. It was a star-studded party with famous personalities like Vijay Mallya, Abhishek and Aishwarya Rai Bachchan, Priyanka Chopra, Aamir Khan, Salman Khan, etc attenteding the bash...

Here's a sneak peek at the guest list...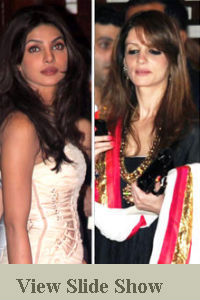 Vipasha Pillai
Wills Lifestyle Casual Denim For Men
Wills Lifestyle Casual Top For Women
John Players Signature Line T-Shirt for Men
Rs.1,695 ($35.21)
Rs.1,495 ($31.06)
Rs.1,095 ($22.75)











Ask our Experts :
Expert Advice, Personality, Immigration (US), Tarot, Hot Couture, Body Care, Matrimonial Laws, Sexual Health, Life, etc, Man vs Woman, Fitness.