Golden Globes 2009 Red Carpet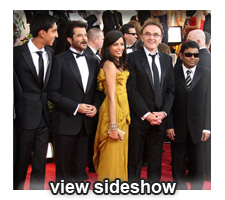 The Golden Globes are the first big awards of the season in Hollywood and many consider them a runner up to the Oscars. This year the Globes were something special with Slumdog Millionaire sweeping 4 awards and A.R.Rahman becoming the first Indian to receive a Golden Globe.

If that wasn't enough, yet another Indian who made waves at the awards ceremony was our very own Shahrukh Khan who introduced Slumdog Millionaire as a nominee for Best Motion Picture (Drama). SRK sported a suit with a sequined tie worn tucked inside his shirt. He carried it off as only SRK can and we're pretty sure it was Karan Johar who designed this for him.


Gauri pulled off a Chandni look in a shimmering white sari. We love the fact that she went Indian. Another couple who went Indian were monk star Tony Shalhoub and his wife Brooke Adams. Tony wore a Bandhgala jacket and looked fab. Brooke was wearing a red lehenga that was - in all honesty - ghastly! But then, she probably doesn't know Indian wear well enough to know how much better she can do.

Then there was the darling of the media - Freida Pinto in a Christian Lacroix mustard gown. She looked mag and so fresh and excited. It was great!

Dev Patel, Anil Kapoor, Danny Boyle and A.R.Rahman all went formal of course and looked pretty dapper.

And here's a quick run down on how the Hollywood brigade looked.
A shaaditimes feature
Pink Printed Tunic
Applique Work Stripes Kurti
Wills Lifestyle Casual Denim For Men
Rs.1,380 ($28.67)
Rs.2,135 ($44.35)
Rs.1,200 ($24.93)
Rs.1,695 ($35.21)











Ask our Experts :
Expert Advice, Personality, Immigration (US), Tarot, Hot Couture, Body Care, Matrimonial Laws, Sexual Health, Life, etc, Man vs Woman, Fitness.