Human relationships are very complex. Does a formula for a perfect relationship exist? How essential are love, lust, aggression, jealousy and passion in a relationship?
'Jealousy is healthy in love'
Says Sonali Kulkarni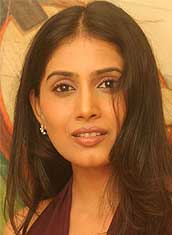 From a trained classical dancer to an avid sports person Sonali Kulkarni has done it all. Best remembered for her role in Dil Chahta Hai, she started her career in films with Grish Karnad Cheluvi, where she played a tree and since there has been no looking back. From her portrayal of an innocent kid sister in award-winning Marathi film Doghi, to Hrithik Roshan's brave mother figure in Mission Kashmir, Sonali has come a long way. Lately, Sonali has played Omar Sharif's impetuous granddaughter in Lamberto Lambertini's Italian film Fire At My Heart.
Her accolades include the prestigious French Grand Prix Award for her role as a victorious protagonist in Daayraa.



A woman fuelled by love and passion; Sonali Kulkarni reveals her heart to shaaditimes.





I think love is a must in any relationship as it serves to keep the spark alive in a relationship. However, I would also count trust, honesty and faith as the foundations of a successful relationship. All these qualities help cement a relationship, and see it through troubled times. The better the communication, the tighter the bond, and the closer the relationship.




While the degree of lust differs from person to person, in a couple, it is based on the chemistry between the two partners. It is up to each partner how he or she would react to the other. According to me, lust cannot be considered over love.




Jealousy is a part of us; it is healthy and helps to gauge our feelings. If you love someone and find yourself becoming jealous, then that is when you understand your emotions better. Many times we fail to realise that we are in love and a certain incident makes us realise how much we love and adore that person. It is an important part of ongoing relationship.




I am not aggressive. Aggression can play spoiler in a relationship. Actually, being aggressive towards your partner indicated a lack of trust and respect. If you love and have respect towards each other, aggression takes a back seat.




It is not one-dimensional word. It is universal according to me. Passion cannot just be attributed to one relationship; it is a way of life. Either you have it, or you do not. I am extremely passionate towards my work, family and friends. I am both passionate and dedicated to each phase of my life.


Noorussubha Khan
Applique Work Stripes Kurti
Cotton Kurta with Gold Print
John Players Signature Line T-Shirt for Men
Rs.1,380 ($28.67)
Rs.1,000 ($20.77)
Rs.1,200 ($24.93)
Rs.769 ($15.97)
Rs.1,095 ($22.75)











Ask our Experts :
Expert Advice, Personality, Immigration (US), Tarot, Hot Couture, Body Care, Matrimonial Laws, Sexual Health, Life, etc, Man vs Woman, Fitness.