In Black & White With Rucha Gujrathi
I Dream Of Bollywood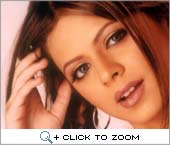 She became the darling of a billion hearts with her portrayal of spoilt brat Kali in Balaji's Kkusum. She then gained appreciation as an actor of calibre with Star Plus's Bhabhi. The seriously sensational Rucha breaks her silence to Shaaditimes on her first love, crush and dreams...





Crush: I had a crush on a boy, who was studying in a boy's school near to our school. I was in 10th standard then.

Date: My very first date was in 12th standard and we had gone to Manhori beach. That was really beautiful and I remember that still.

Proposal: This was again when I was in 12th and it was Valentine day in my college. A guy had bought for me a huge bouquet and a musical card.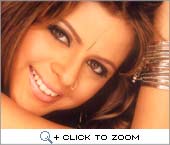 Rejection: I rejected that poor guy on the spot and tore off his card. I was very young then and didn't realise how to react calmly to certain situations.




Film: My favourite Bollywood movie is DDLJ. Actually the story line of that movie is amazing and it is very beautifully made. My favourite Hollywood film is Notting Hill.

Gift: I think materialism doesn't matter to me much; a single word or line is enough to say everything you want to express. A rose is most ideal to express love and emotion according to me.

Destination: I have too many to list but romantically it is Europe, Bali, Paris and of course, closer to home - Goa.




Love: My first priority is my family.

Hate: Dishonest people.

Fear: Lizards and darkness. If by chance I happen to see lizards around I don't know how will I react.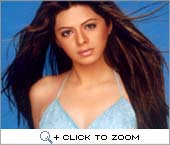 Dream: Of Bollywood. Though serials are my priority right now, I really do want to walk the red carpet. I would love to act in plays and do theatre also. But my serials constrain me from doing this right away.




Turn on: People who smell good.

Turn off: Bad breath.

Your pick up line: Brown eyes are dangerous.

Your favourite bedroom line: I am still to experience this part, but as of now it is, "Sweet dreams".

Noorussubha Khan
Spykar's Denim Jeans For Women
Wills Lifestyle Casual Top For Women
Pink Printed Tunic
Rs.1,999 ($41.52)
Rs.1,899 ($39.45)
Rs.1,395 ($28.98)
Rs.2,135 ($44.35)











Ask our Experts :
Expert Advice, Personality, Immigration (US), Tarot, Hot Couture, Body Care, Matrimonial Laws, Sexual Health, Life, etc, Man vs Woman, Fitness.