Human relationships are very complex. Does a formula for a perfect relationship exist? How essential are love, lust, aggression, jealousy and passion in a relationship?
Conscience plays a major role in love
Rajesh Shringarpure
Rajesh Shringarpure, a well-known name in Marathi industry, is slowly emerging as a star in the Hindi film world as well. His Hindi serial, Sahib, Biwi Aur Ghulam, co-starring- Raveena Tandon and Ayub Khan, (Sahara one) is just one proof of his phenomenal skills. Rajesh can also be seen in Saarthi (Star Plus as Lord Krishna), and Char Diwas Sasuche, a Marathi daily on ETV Marathi. He is truly enjoying every bit of attention and fame that is coming his way.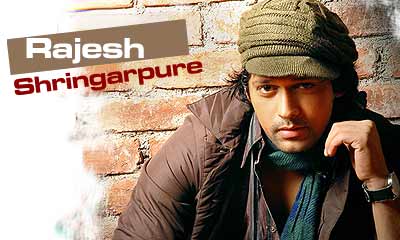 Shaaditimes caught up with this handsome hunk, as he speaks on Love, lust, jealousy, aggression and passion.


Love makes you complete. In love you must not have any expectations from the other as it hurts a lot when they are not fulfilled. Conscience plays a major role. Love at first sight is only for teenagers as they fail to differentiate between true love and attraction. But for mature heart, it's all about understanding the other person; only then will you realise, if you are truly in love. Love has to be pure from heart.




Yes, there has to be lust up to a certain extent. In fact, I would say that lust is necessary for love. It is a natural feeling. Actually, I would say it is the appreciation that the eyes bring out for any beautiful thing that catches one's sight. I think love is the extension of lust. When there is lust, only then there will be love. But one must learn to draw a line between love and lust. Lust is essential for love to survive.




According to me, jealousy is nothing but an insecure feeling that one has against the other. When one wants to lead or exceed the other and they are unable to do so, jealousy is born. Most of the times when husband and wife are in the same profession, and if wife exceeds him, his ego gets hurt and he ends up feeling jealous. However, I can't really imagine myself being jealous if my wife is more successful than me or earns more than me. I would be proud of her.




Do you think I am aggressive? No, I am not. Aggression in any relationship can lead to breaking-up. If you are aggressive towards your partner then he/she will scarcely tolerate it. If you love your wife or husband unconditionally, you cannot be aggressive.




Passion tops the chart of emotions. It helps to express your love towards your partner or better half. I am passionate towards my family and my people around me. I try to spend quality time with them, surprise my wife with gifts, bouquets, etc. If you have feelings for the opposite person, even if it is love, lust, passion or any other emotion, the person automatically feels it. Actually, all emotions come from the heart, so if you keep your heart in control, then no emotion will go overboard.


Vaibhavi V. Pradhan
John Players Signature Line T-Shirt for Men
Pink Printed Tunic
Spykar's Denim Jeans For Women
Rs.1,999 ($41.52)
Rs.1,095 ($22.75)
Rs.2,135 ($44.35)
Rs.1,899 ($39.45)











Ask our Experts :
Expert Advice, Personality, Immigration (US), Tarot, Hot Couture, Body Care, Matrimonial Laws, Sexual Health, Life, etc, Man vs Woman, Fitness.