Diet right, says Tanaz Currim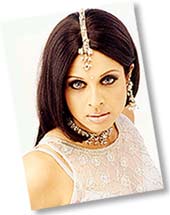 The bubbly actress takes the common-sense approach to health.



"I don't do much to look good," says the Mrs. India 2002 second runner-up Tanaaz Currim, who first made waves on the small screen with her hilarious role in the TV series Zabaan Sambhal Ke . And from there to films, she's always managed to make us laugh. However, she explains, she wouldn't just like to be labelled as a comedienne, but is keen on doing other roles as well.

"I am not a health freak, nor do I go to the gym regularly," says Tanaaz. Then how does this mother of one manage to keep herself fit? She shares some of her secrets with shaaditimes.

Food should be nutritious
Food for me is something that should be delicious and is suppose to be nutritious. I should not be wasting my time and energy eating unhealthy food.

Junk food is out
Whatever I eat I make sure I'm having nutritious food. For breakfast I have toast with butter and jam, green tea and sometime, wheat flakes. I snack on fruits or dry fruits in between, if at all I feel hungry. For lunch I have two chapatis , dal , sabji and some chicken. Strictly no set ka khana for me if I'm shooting. I have a cook at home who sends my lunch box to the set. I don't have rice at all. Sometime in the evening I have biscuits and I have 2 eggs every day, one without yolk. And when I really feel like eating rubbish I just have half or maximum one samosa . I avoid junk food. Dinner is more or less the same as lunch. Usually I go out for dinner. I have a big sweet tooth. I love pastries and Indian mithai but I know my limits, so I have very little sweets.


Prefer eating at home
I eat out often because I get invited quite often. I don't have a favourite eating spot because I keep partying and I have visited almost all the good joints in Mumbai. But I always prefer eating at home. My favourite cuisine is Thai. If I don't mind putting on a little fat I devour on Lucky's biryani, it is my favourite. I can cook but I don't get much time to cook. Once in a while I cook a complete meal for my family.

Try doing some exercise at home
I am not a health freak because I don't regularly exercise. I am not a regular gym-goer either. But whenever I get time, I do run on the tread mill at home and do some exercises.

Eat healthy to look healthy
Touchwood! I don't have to do much to take care of my skin. The only thing I do is remove my make-up with a special make-up remover pack and apply my night cream. I naturally have a good skin. I don't believe in visiting parlours for facial or clean-ups at all. I don't do any of these. I just eat healthy food and I believe that's all it takes to make you feel and look healthy.

Recharge you body
Don't take your body for granted. It's like a calling card. You need to recharge it every time. Definitely listen to your body. Rest well when it asks for rest. Dieting is a good idea but it does not mean you starve. Have a proper healthy diet.

On a dinner date with fiance Bhaktiar
I would like to go anywhere on a dinner date with my fiance Bhaktiar. Wherever there is good and healthy food served, specially fish, because Bhaktiar likes fish.


Sabina S Mary
Wills Lifestyle Casual Top For Women
John Players Casual T-Shirt for Men
Spykar's Denim Jeans For Women
Rs.1,999 ($41.52)
Rs.1,395 ($28.98)
Rs.995 ($20.67)
Rs.1,899 ($39.45)











Ask our Experts :
Expert Advice, Personality, Immigration (US), Tarot, Hot Couture, Body Care, Matrimonial Laws, Sexual Health, Life, etc, Man vs Woman, Fitness.