'Fit body and mind go together'- Shweta Keswani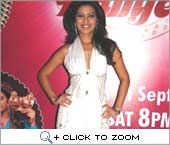 Her superb dance performances in Garnier Fructis Nach Baliye 3 got her loads of accolades as did Alexx's lip syncing. A good dancer understands the importance of having a fit body. Dance demands flexibility, stamina and strength.

Shaaditimes talks to Shweta about her fitness fundas.


Define fitness:
According to me, fitness is state of healthy mind and body. If your body and mind stay calm, you stay fit.

Do you follow any fitness regime?
Yes, I do. I practice yoga thrice a week. I even take multi-vitamins, calcium and of course I drink lots of water. And recently... I've been dancing to stay fit!

One food item you cannot resist?
Shev Puri. I just love it.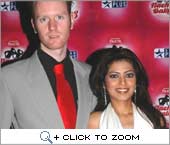 Your preferred drink?
Water. I drink lots of water. Also I prefer fresh fruit juices to colas.

Diet:
I eat 5-6 small meals a day. I try to stay away from rice. I opt for salads. If I am not hungry much, I eat peanuts and drink a glass of buttermilk.



Who according to you has the best body in business?
Akshay Kumar without a doubt. He has maintained himself so well. Even Hrithik Roshan has good physique. Amongst ladies, I think Deepika Padukone wins hands down.

Your sex appeal?
My positive approach towards life.

Also read:
Sweta And Alexx: The Indo-Dutch Foxtrot

Vaibhavi V. Pradhan
John Players Signature Line T-Shirt for Men
Cotton Kurta with Gold Print
Applique Work Stripes Kurti
Rs.1,000 ($20.77)
Rs.1,380 ($28.67)
Rs.1,095 ($22.75)
Rs.769 ($15.97)
Rs.1,200 ($24.93)











Ask our Experts :
Expert Advice, Personality, Immigration (US), Tarot, Hot Couture, Body Care, Matrimonial Laws, Sexual Health, Life, etc, Man vs Woman, Fitness.