Eat every 2 hours, says Shital Thakkar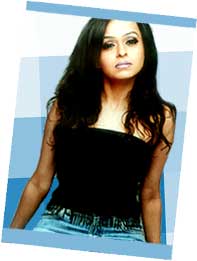 Apart from acting in serials and anchoring shows, Shital is also a trained Bharat Natyam dancer.

Shital is not a health freak, but she follows an exercise regime to stay fit.

She shares her food and fitness mantras with shaaditimes.

Not a health freak
I do go to the gym at least twice or thrice a week or whenever I get time. On other days, I go on a walk with my dog atleast for half an hour. I run and play with him and that's how I burn my calories. I am not a health freak as such. I am not into yoga or meditation. Whenever I get some time for myself I listen to music and relax myself and my mind.

Eat every two hours
I start my day with a glass of hot water with lime and honey. I have a brown bread sandwich without butter and a glass of seasonal fruit juice. If it's too hot, I have Tang or coconut water. I believe in eating every 2 hours. At around 12.30 I have some fruits. Then at 1.30 I have my lunch consisting of roti , sabzi and some soup. If I am shooting, I carry my dabba . If I find something interesting on the set, I have it. In the evening at around 4.00 or 5.00 I have some light snacks like khakara or some fruits. At around 6.30 or 7.00 I like to eat all the goodies like chat , pani puri , bhel . If I am not shooting I like to have my dinner early at around 8.30. I don't like Indian sweets and hate milk. I love chocolates and pastries.

I can cook anything
I eat out atleast twice or thrice a week because I like to eat out. My favourites are China Gate, Crepe station at Bandra and Subway.
I don't cook often but I like to cook. Infact, I did my Hotel Management after I finished my graduation. I can cook most Indian recipes. Whenever I am expecting guests at home, I love to do the cooking because I like to be a good host. I make very good desserts, pastas and Indian food.




Shital's Fruit Gateaux

Ingredients
Marie biscuits
Sponge cake
Mix fruits chopped (avoid sour fruits)
Custard
Vanilla ice-cream or fresh cream
Some chocolates

Method
In a dessert bowl make a base of the crushed biscuits, put another layer of sponge cake pieces and put the chopped fruits on top. Layer it with thick custard. Sprinkle chopped mixed fruits. Then top it with vanilla or chocolate ice-cream or fresh cream. If you are using vanilla ice-cream then you can put some chocolate on top of it. Refrigerate it for some time and serve chilled.



Home-made face packs
I don't use too many products on my skin. I put a pack made of haldi (turmeric), lime and honey. I use papaya, banana and tomato home-made face packs. Home remedies are always good. For my hair I use protein packs. I go to the parlour for my hair treatments.

3 tips

Love yourself. A healthy mind works towards a healthy body. There is no point in living if you don't feel alive. You must be healthy and fit only then you can achieve what you want.
Whether hungry or not you must eat small portions every 3 hours.
You should have lots of fruits like apples, bananas because they are good for your hair and skin. There is no fat content and are rich in Vitamin E and C.

On a date
My list is endless. I would like to go out on a dinner date with Big B, Aamir Khan, Don Mclean. And even with Sushmita Sen, so that I get to know her more. I would have loved to go on a dinner date with Elvis Presley. If you have amazing company the place and food does not matter. I can even sit on a chatai on a beach with them, enjoy the food and have an interesting conversation.


Sabina S Mary
John Players Casual T-Shirt for Men
Wills Lifestyle Casual Top For Women
Wills Lifestyle Casual Denim For Men
Rs.995 ($20.67)
Rs.1,495 ($31.06)
Rs.1,695 ($35.21)











Ask our Experts :
Expert Advice, Personality, Immigration (US), Tarot, Hot Couture, Body Care, Matrimonial Laws, Sexual Health, Life, etc, Man vs Woman, Fitness.