Right moves
Dining with dance expert Sandip Soparrkar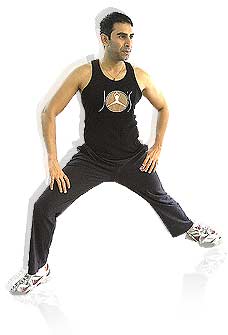 Whether it's a foxtrot, tango or a Bollywood steamy sequence, chances are, leading choreographer and dance expert, Sandip Soparrkar, has the winning formula. For those not in the know, he's the force behind Jackie Chan and Mallika Sherawat's magical sway in The Myth. He's added zing to Pooja Bhatt's Holiday, and created riveting dance sequences for other stars from Mangal Pandey (Aamir Khan) to Kya Hoga (Ash and Vivek Oberoi).

Let's step into his food and fitness routine

No time for gourmet diet
Unlike most people food for me is not a cathartic moment or a spiritual fulfillment in anyway. I have never had time to partake on a gourmet diet or meal on a regular basis. As a professional dancer food really is something to simply nourish me. To me, its a tool to survive. My only weakness is chocolates, I love dark chocolate and can live on it.


I enjoy dal and roti
No, I am a simpleton when it comes to food. I enjoy the basic dal and roti although I am not a rice eater per se. I do not know how to cook a meal and am totally reliant upon my staff to nourish me. I avoid spicy foods and foods that have cream base like heavy pastas etc... I do enjoy yogurt with everything I eat. My usual daily diet is the following:

Diet
I start my day with a glass of nimbu paani (lemon water).

Breakfast:
I usually have cereal, milk, a banana, a few almonds washed down with a glass of juice.

Mid-morning:
I have some fruit / fruit juice or a glass of milk

Lunch / Dinner:
I normally eat a basic dal and roti diet and it is normally always home food. I avoid rice. My roti is usually a mix (bajra and jowar cereals).

I am half Gujarati and half South-Indian so I think that's why I also love yogurt in everything I eat. My food has little oil and spice. I do compensate with this low calorie meal as I spread out my meals and have five light meals as opposed to three.

Mind-Body-Spirit
I don't give any advice on mind-body-spirit. Nutrition is important, but I feel you have to eat everything in moderation. Same with exercise especially if you are not a professional athlete or dancer. As a teenager I was overweight and I feel this affected me later in my life as a professional dancer.

As a dancer, I try to maintain my optimum fitness routine and supplement it with a daily workout at the Gym. I am at JG's Gym in Santacruz, Mumbai each morning. I workout for one hour and do some aerobics and kick-boxing. When I am not at a film shoot or at a practice for a dance sequence film shot I am at the dance studio. In total, I probably spend about 5 hours each evening dancing or training in dance. I was an overweight teenager, and I took to dancing to shed some of the excess pounds. In the process not only did I become physically fit, but it also helped me with my overall confidence, good body posture, hand-eye co-ordination, and has kept my mind active. Dance is an art-form that offers relaxation, a chance to de-stress, and most of all to get to know yourself better. It really is the elixir of youth and gives one the all important poise, posture and carriage.

Something I just recently added to my workout is the martial art form of kick-boxing. I started training in this after working on The Myth. I think watching Jackie Chan excited me in this action movie so I decide to find a trainer in Mumbai.

Two left feet in the kitchen
I have two left feet in the kitchen and can not make a meal. I do enjoy good food though and as a special treat for myself I go to Tian(Juhu) for Thai food, and Lemon Grass (Bandra). On a rare occasion I may treat myself to a high-carb high calorie pizza.


A shaaditimes feature
Spykar's Denim Jeans For Women
John Players Signature Line T-Shirt for Men
Wills Lifestyle Casual Top For Women
Rs.1,999 ($41.52)
Rs.1,899 ($39.45)
Rs.1,095 ($22.75)
Rs.1,395 ($28.98)











Ask our Experts :
Expert Advice, Personality, Immigration (US), Tarot, Hot Couture, Body Care, Matrimonial Laws, Sexual Health, Life, etc, Man vs Woman, Fitness.