Switch from the pitch
From a cricketer to an actor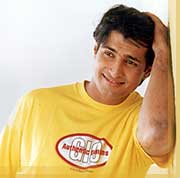 Since he bid adieu to cricket, Salil Ankola has gone on to become a successful actor. His small screen exploits have been appreciated and rewarded by one and all. He is coming of his own on the big screen as well. However, one striking thing about Salil is that he has maintained his health and fitness even after leaving cricket.

ShaadiTimes unravels a few fitness secrets of Salil Ankola


Gymming is the way...
Being an ex-cricketer, everyone expects you to be fit and fine every time. Ofcourse, you are well versed with various fitness regimes, but it's not the same anymore. To remain fit I go to the gym regularly. It's a 6 day gymming schedule. I mostly do weight training - one body part a day. On the seventh day I play any sport - tennis, cricket or football.

I am a foodie...
My dietary habits are simple. Oil is a strict no-no. I eat lot's of meat and fish. I love the food of my native place - Karwar. I like to eat kebabs, especially at the restaurant, Mirchi. I also frequently eat brunches at J.W. Marriott. Italian food at Don Giovanni is another favorite. Other international cuisines that I prefer are Thai and Chinese.



My recipe: Fish curry Take a combination of a variety of fishes - pomfret, crabs, prawns, or any other fish of your choice.
Cut mid size onions into small pieces, mix with garlic and fry the mixture in a pan. Fry till it becomes golden in colour.
Put Malwani masala in it.
Remove it from the pan and grind it, making it a paste by mixing coconut milk and not water.
Put it back in the pan. Add a little more coconut milk in it. Cover the pan from the top and let it fry for a couple of minutes.
Add the fish in the mixture and serve with rice.



On my dream date...
Well, my dream date would definitely be with my wife. I would love to go to coastal places like Goa, or resorts near a beach. I prefer holidaying at a beach.


Sagar Patel
Applique Work Stripes Kurti
Spykar's Denim Jeans For Women
Wills Lifestyle Casual Top For Women
Rs.1,380 ($28.67)
Rs.1,999 ($41.52)
Rs.1,200 ($24.93)
Rs.1,899 ($39.45)
Rs.1,495 ($31.06)











Ask our Experts :
Expert Advice, Personality, Immigration (US), Tarot, Hot Couture, Body Care, Matrimonial Laws, Sexual Health, Life, etc, Man vs Woman, Fitness.