Rituraj Singh - Fitness, food and philosophy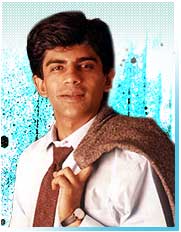 Theatre and television actor, Rituraj Singh has been doing what he is best at... acting for almost 20 years now and still gives the younger lot a run for their money. A self confessed food freak, Rituraj has a very interesting take on fitness and health.

ShaadiTimes shares the fitness and food philosophy of the very versatile, Rituraj Singh.

How important do you think is fitness?
Health and fitness is the key to a happier, mentally stable you. I am very regular when it comes to my fitness. I am 41 now and at this age one needs to take care of the body. And besides, staying healthy also keeps you happy from within and makes you feel good about your body. I believe the human body is the most amazing and awesome machine gifted to us and one should respect it and take proper care of it. My day starts with jogging. I go the gym in the evening where I do light weight exercises. I do not go overboard with my fitness. It's a simple regime. Basically, being an actor, I work out to stay fit and in shape. I do not want someone offering me a fat man's role! (laughs).

Do you have any dietary plan to maintain your health?
I am not a strict diet follower, but I am very particular about my breakfast. My breakfast consists of oats or cornflakes and fruits. I have 2 1/2 glasses of plain milk every morning. I have eggs thrice a week as though they are a great source of proteins they are a little high on cholesterol. I avoid bread; I have it only when I am on a vacation and that too I generally have an open sandwich. Twice a day I have vegetables like carrots, tomatoes, cucumber. I don't like sprouts. I prefer eating raw vegetables.

That is a very structured diet plan. Is there any room for partying or fun?
Oh, no no, it's not as bad as it sounds. I am a big foodie. I am an occasional drinker too, but I do not binge. I restrict it to a quantity where one can appreciate its taste and I never overdo it. I party with friends but have never got drunk. I do not believe in fad diets like boiled food and sprouts. I love eating masaledar food. I love pizzas, chicken tandoori , sweets and Chinese dishes. I also love dal chawal . On a whole, I think it's important to keep your body happy for a fresh and healthy mind. My friends say I have great amount of energy that keeps me going and it has come by eating right kind of food.


Do you cook?
I used to cook, not anymore though. My mom taught me how to cook and yes she is the best cook in the world. She taught me how to cook basic food like dal , vegetables, rice and later I used to prepare my own dishes by mixing and matching different food items. Now-a-days I cook once in a while when I have friends coming over. I have this special mutton dish, which is a traditional recipe passed on in my family since generations. Sorry, don't ask me to share it.

I used to cook for my wife occasionally, but not anymore. By the way, she too doesn't cook for me (laughs). She is working and I too have a busy schedule so we do not even get the time to eat our meals together. We have a common favourite in Chinese cuisine, so I make it a point to take her and our kids out for Chinese food, once a week to Legacy Of China, which happens to be my favorite restaurant.


Sagar Patel
John Players Signature Line T-Shirt for Men
Spykar's Denim Jeans For Women
John Players Signature Line T-Shirt for Men
Rs.1,999 ($41.52)
Rs.1,095 ($22.75)
Rs.1,899 ($39.45)
Rs.1,095 ($22.75)











Ask our Experts :
Expert Advice, Personality, Immigration (US), Tarot, Hot Couture, Body Care, Matrimonial Laws, Sexual Health, Life, etc, Man vs Woman, Fitness.