Meet the health & spiritual guru, Mickey Mehta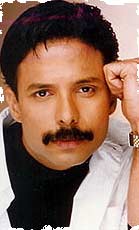 Mickey Mehta is one of the biggest internationally acclaimed health and fitness icons in India. He is amongst the leading health and spirituality gurus. As the old adage goes, 'Behind every successful man, there is a woman, here it can be said; behind the stunning bodies in bollywood there is Mickey Mehta.'

"Health is not about calories, it's all about balancing wellness that harmonises your bio-clock," says the fitness guru Mickey Mehta. Here's more on his fitness mantra...

The rising of a fitness guru
Well...it began during my school days. I was in military school at Nashik. The first orientation that I attended was, when I was at Bhosle School, on physical and spiritual disposition - all about fitness, health and emotion wellness. I took all that seriously. Today I have my own gym and India's leading holistic health group.


Holistic health
Holistic health is all about importance given to your self, lifestyle and behavioural pattern, correction and enhancement with principles of ayurveda and philosophies. It's all about eating habits, incorporation of conscious breathing, effective physical activity, and meditation, easiness of your mind and body to attain holistic health.

Fitness with food
I eat oily but not too greasy food. The proportion of oil intake is not extreme. What is important is to eat well. It's not how much you eat but what you eat. I am a non-alcoholic, non-smoker and a strict veggie. I crave for mithai (sweets). I consume a lot of nuts, sprouts and juices. I believe food should harmonise your bio-clock.

Dawn to dusk
My morning always starts with fruit juices or coconut water, followed by nuts. I see that my lunch is more of salad, sprouts and dal. Evening I don't eat after 7:30 or 8:00. I occasionally eat rice. Being a fitness expert, the fitness regime starts with me so I eat healthy to stay healthy.

Stretch jobs
My workout plan includes lots of stretching, yoga, tubes (resistance band). All this works on my biceps. I follow up with crunches. Internal training stabilises my body balance, by this I mean the yoga and meditation. Swimming is also a part of my fitness regime.



Mickey Mehta's Five Fitness Commandments
Eating a variety of food gives you all the vitamins and minerals you need.
Balance the foods you eat with physical activity to maintain healthy weight.
Choose a diet with plenty of whole grain products, vegetables and fruits.
Follow the principle of moderation. Choose a diet moderate in sugar and salt.
Choose a diet low in fat, hydrogenated fat, saturated fat, and cholesterol.











Ask our Experts :
Expert Advice, Personality, Immigration (US), Tarot, Hot Couture, Body Care, Matrimonial Laws, Sexual Health, Life, etc, Man vs Woman, Fitness.

Copyright © 2020 Shaaditimes.com - A relationship and wedding portal by Shaadi.com. - All Rights Reserved.
Terms and Conditions