Kashmira Shah - 'Pilating' her way to fitness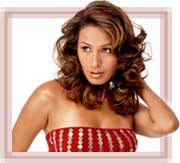 Model turned actress, Kashmira Shah rocked Bollywood with a startling performance in her debut movie, Yes Boss and stood tall amongst the likes of Shahrukh Khan, Juhi Chawla and Aditya Panscholi. She was one of the earliest to defy the notion that 'models can't act', with breath taking performances in movies like Jungle and Kahin Pyaar Na Ho Jaaye . Lately, seen shaking a leg in Vaastav and Ankhen , Kashmira is now happily married to Brad Listermann, a US banker.

ShaadiTimes gives you a sneak peak into the fitness routine of this dusky siren

Dancing is my way of exercising
I practice the Pilates method as a form of exercise, every alternate days. It's a form of dance and it gives you a refreshing and an energising work-out. It exercises your abdomen, legs and waist. Overall, it keeps the whole body fit. Other than that I am dancing every week with my dance troupe on shows or just for leisure. I think dancing is a great way of exercising and also an effective stress buster. You need to keep the stress out of your life to live the healthy way.

My dietary habits
I avoid eating white rice and white bread. I used to love chicken, but with the outbreak of bird flu, I will have to avoid it. Chicken used to be my number one dish followed by fish, but now fish will have to take precedence.

A few of my favorites


Among my favorite restaurants, I love the food and ambience at Mah Jong, at Khar, Mumbai. The food is delicious and the place is quite cosy. I also frequently eat at Wasabi, near the Gateway of India. The restaurant serves authentic Japanese food cooked in the traditional Japanese style. I am a big fan of Japanese cuisine. My personal favorite is, however, the Chicken Pulao , I cook myself. But, again because of bird flu, I think I will have to replace chicken with something like prawns, next time I decide to cook.


My dream date would be...
I have married my dream date, is all I can say. Hence, I am not allowed to even dream about dates anymore (laughs).


Sagar Patel
Spykar's Denim Jeans For Women
Pink Printed Tunic
Wills Lifestyle Casual Top For Women
Rs.1,999 ($41.52)
Rs.1,899 ($39.45)
Rs.2,135 ($44.35)
Rs.1,495 ($31.06)











Ask our Experts :
Expert Advice, Personality, Immigration (US), Tarot, Hot Couture, Body Care, Matrimonial Laws, Sexual Health, Life, etc, Man vs Woman, Fitness.