Kashmeera Shah: Mantra For Fitness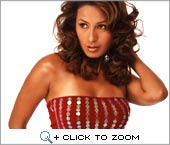 "A healthy mind and healthy body are the mantra for a fit personality" - Kashmeera Shah.

Kashmeera Shah, a name not unknown to anyone. A sultry figure with loads of attitude; she became a household name with Sony TV's reality show Big Boss. Later, she was seen with her beau Krishna in Sony TV's dancing show Nach Baliye-3.

She won many hearts with her dancing skills. With her dusky looks, gorgeous body and never-say-die attitude, Kashmeera has a huge fan following.

Meet the bold and beautiful Kashmeera Shah in rendezvous with Shaaditimes as she spills the beans... on fitness, regime, diet and much more.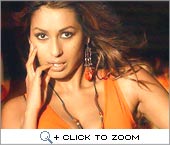 Fitness...

Fitness depends on person to person. Some may imagine a 36-24-36 figure as a fit body, while some may think staying slim is staying fit. But I think fitness is not only about a sexy and sultry figure, it is much more than that.

Fitness is also about a fit mind in a fit body. You have to be mentally and physically sound to be fit. Just staying slim or eating less is not fitness. But eating appropriate and staying happy is also fitness.

Now-a-days models go for injections, boob jobs and other surgeries to become slim, they take medicines to remain slim - but that's not fitness. Fitness is eating right, maintaining a perfect workout regime and having a healthy mind.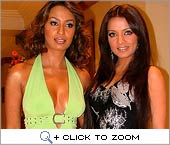 My Fitness Regime...

I don't smoke or drink. I also don't over eat. I only eat as much as I should. There are times when I find it hard to resist certain food, but I control my hunger. This is the simple regime I follow.

Yes I love food...

Krishna makes the best chicken ever and I really find that hard to resist. At times I almost overeat. He is really the best cook. This is only the food item I can't resist.

I am a tea lover...

I drink tea when in India. Abroad, whether I am in America or Dubai or anywhere internationally, I just love Starbucks.

Diet...

I eat only white meat, no red meat. I also eat veggies on Mondays and Thursdays. And as I said earlier - no overeating. Just eat as much as one needs to fill the stomach. If one follows this then there is hardly any need to go on a diet.

Best body...

Shilpa Shetty has the best figure in Bollywood by far and in men, Hrithik Roshan wins hands down. The way he carries himself is amazing.

Sex appeal...

I think the way I carry myself makes me sexy. I can't think of anything else. The way one carries oneself makes a mark and makes him or her appealing and sexy.

Vaibhavi V. Pradhan
Wills Lifestyle Casual Top For Women
John Players Signature Line T-Shirt for Men
John Players Signature Line T-Shirt for Men
Rs.1,495 ($31.06)
Rs.1,095 ($22.75)
Rs.1,095 ($22.75)











Ask our Experts :
Expert Advice, Personality, Immigration (US), Tarot, Hot Couture, Body Care, Matrimonial Laws, Sexual Health, Life, etc, Man vs Woman, Fitness.