Meet the Punjabi munda Jimmy Shergill
He shares his fitness mantras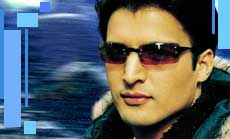 He began with a role in Gulzar's 'Maachis' 11 years back and since then there has been no looking back for Jimmy Shergill. The man with chocolate looks, good boy image and the keenest eye for meaty roles has carved a niche for himself that is as enviable as the vastness of his repertoire. Catch him as he unwinds after a grueling shoot of his forthcoming film 'Wednesday' and talks about food and fitness in a manner that is as honest and unassuming as the man himself.


Everyday food
Normal, everyday food would include a vegetarian lunch and non-vegetarian dinner. Non-veg doesn't happen everyday but when it does I like to keep it for dinner. Breakfast is eggs and toast and that is regular.

Beverages
Black coffee! I love black coffee.

Preferences
Not really. I just prefer home-cooked food over anything. And yes, I love Indian food. But I eat everything. It's not that I can't say no to food, but I am completely non-fussy when it comes to food so no real preferences here.

Favourites
Kashmiri and Punjabi food are my absolute favourites. And more so when ethnically prepared. I got introduced to Kashmiri food while shooting for 'Agni-Pankh' a couple of years back. I relished every bit of it and even today its one of my favourites. And Punjabi food, of course I am a Punjabi boy so it's in my genes.

Special haunts for Kashmiri and Punjabi food
None at all. Authentic Kashmiri food for one is not available anywhere except Kashmir. And even when I go to Kashmir I always like to binge on food prepared and available locally. I have lots of friends in Kashmir who still have cooks who are experts in authentic Kashmiri cuisine. That is where I relish the real taste of the food.
I do one Punjabi film every year so it's a great opportunity to savour Punjabi food. What's more exciting is the way you relish it. You know, the typical makke ki roti and sarson ka saag comes alive when you are having it made by a Punjabi cook in Punjab during winters. It's a delightful experience.

Fitness mantra
At one point I used to work out a lot but I stopped it. I realised body building etc is not my game. Today I focus on staying fit. I run for about half an hour 3 to 4 times and that helps in keeping the mind and body fit. Diets, exercise regimes are not a part of my lifestyle at all. Running is the most effective exercise because of the freedom it offers me. While I am shooting different and long hours it becomes difficult to stick to an exercise regime. So what I do is grab a run in the morning on the treadmill. Or when we are shooting outdoors, I take off for a half an hour run. It is refreshing to say the least.


Fatema Kagalwala
Applique Work Stripes Kurti
John Players Casual T-Shirt for Men
Cotton Kurta with Gold Print
Rs.1,380 ($28.67)
Rs.1,000 ($20.77)
Rs.1,200 ($24.93)
Rs.995 ($20.67)
Rs.769 ($15.97)











Ask our Experts :
Expert Advice, Personality, Immigration (US), Tarot, Hot Couture, Body Care, Matrimonial Laws, Sexual Health, Life, etc, Man vs Woman, Fitness.