Gautam Kapoor
On meditation, favourite cuisine & fitness fundas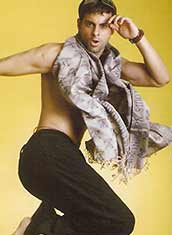 Model or family devoted man whatever you may call him but Gautam Kapoor will be remembered as a lover boy who featured in Alisha Chinai's music video, and after that there was no looking back for this hunk. Gautam has been a rare face in fashion world but this handsome hunk has a great feature and to top it up an impressive body that makes girls go crazy about him.

He reveals his food and fitness secrets to shaaditimes.

Think-full eater
I love Indian food. What pulls me towards food is the aroma. I am not a complete foodie but I love to try on good food. My favourite cuisine is Indian and Thai, as I love spice. I don't eat anything or everything. I think on what am I eating. I hog more of protein. Even if you catch hold of me in any restaurant you will surely see me having much of high protein food. I am a total health conscious person.


No oily please
I hate oily and total rich food. I care for my body and so greasy food puts me off. I can't have much of oil as it affects your body. What works best for me is less fat and more protein. I follow this as my mantra.

Leg-a-raho!
I workout everyday, I am a total fitness freak. I go for super settings and in that mean time I take very little rest. I perform multiple exercises for different parts of my body. My main concentration is on my legs, as we Indian are not genetically blessed with good legs. I would recommend my fans to also concentrate on their legs rather than upper body.

Not a cook
I can't cook. But I can eat good food. Again keeping my fitness regime in my mind. I have 15 eggs in a day.

Lotus Meditation
The first think I do every morning is meditation called as "Lotus Meditation", believe me it works wonders! It is a powerful meditation. It awakens you and attracts you to things in life, which you lack whether it's your personal, professional, or any monetary aspect. Meditation of any kind is good to keep your mental worries at bay. You feel fresh and lively.

My words
Keep yourself fit and release those mental worries. This can only be possible with good exercise and by eating healthy food.

Noorussubha Khan
Spykar's Denim Jeans For Women
John Players Casual T-Shirt for Men
Applique Work Stripes Kurti
Rs.1,999 ($41.52)
Rs.1,380 ($28.67)
Rs.1,899 ($39.45)
Rs.995 ($20.67)
Rs.1,200 ($24.93)











Ask our Experts :
Expert Advice, Personality, Immigration (US), Tarot, Hot Couture, Body Care, Matrimonial Laws, Sexual Health, Life, etc, Man vs Woman, Fitness.