Anuuj Saawhney - Food, fitness and romance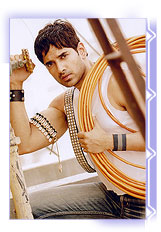 The new kid on the block, Anuuj Saawhney, all of four films old ( Nayee Padosan, Funtoosh, Naina and Chingaari ) is already creating a buzz in Bollywood. With so much to do, does he find time to keep himself fit and healthy?

ShaadiTimes reveals the simple and uncomplicated fitness and food routine of Anuuj Saawhney.

What is your fitness routine?
My fitness routine is simple. I enjoy swimming, so I go for a swim 2 to 3 times a week, for an hour daily. Swimming is not only my hobby, but it is a very good way of toning your body and exercising. I work out on the remaining days. Sundays are off, they are for myself.

Many people say fitness is an over-rated thing. Do you agree?
Not at all. But yes, I do not believe in fitness fads. Fitness is important so that you can be healthy and do your work efficiently. Like, for my movie, Tom, Dick and Harry , I realised the importance of fitness as the role was very draining physically. We had to do quite a few rehearsals before we could take the final shot. It was very tiring. At such times you realise how necessary it is to be fit and healthy.


What are your dietary habits?
I love eating. I am a hogger and a big foodie at heart. I am a strict fish eater. Fish is my favorite food. I have a bad sweet tooth though. In cuisines, well, it's tough to decide as I like all kind of foods, but I would put Continental, Chinese, Mughlai, Thai as slightly ahead on my favourites' list. Basically, I like whatever there is to gorge on!

Which is your favorite food joint?
Another tough choice. I love the food at Sheesha, Bandra. Not only is the food delicious, but the ambience is beautiful.

What would your ideal date be like?
Oh, I am quite a romantic at heart. I've done many weird, romantic things, but ideally, on a date I would like sipping champagne on a candle-lit table by the beach. I would have a violinist playing in the background, and I would love to dance the night away.


Sagar Patel
Applique Work Stripes Kurti
Wills Lifestyle Casual Denim For Men
John Players Signature Line T-Shirt for Men
Rs.1,380 ($28.67)
Rs.1,200 ($24.93)
Rs.1,695 ($35.21)
Rs.1,095 ($22.75)











Ask our Experts :
Expert Advice, Personality, Immigration (US), Tarot, Hot Couture, Body Care, Matrimonial Laws, Sexual Health, Life, etc, Man vs Woman, Fitness.