Author Tuhin A. Sinha and
That Thing Called Love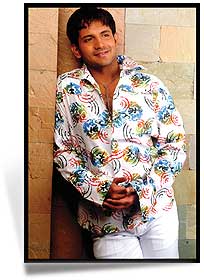 Twenty-nine-year-old Delhiite, Tuhin A. Sinha's, debut novel That Thing Called Love was recently launched at Crosswords by Bollywood luminaries Shekhar Suman and Pooja Bedi. The off-beat romance comes with the tag line 'an unusual romance' as it explores the complexities of love and relationships in urban Indian families. Tuhin's novel will soon hit the celluloid and he's excited about seeing his characters come to life on the big screen.

Turhin talks about his new book in an exclusive interview to Shaaditimes.

A film called That Thing Called Love starring River Phoenix and Sandra Bullock was released in 1993. Has the title of your debut novel been inspired from the title of the film? What according to you is the significance of the title of your book?
No. Well, the name That Thing Called Love has an enigmatic intriguing feel to it. At a first glance, it gives a very positive feeling. If you probe those words, you realise they could have been said in a damned way as well. It's really for the readers to decide what love really is once they've read the story, but yes, the name just whets up the interest. It goes with the rather unusual storyline.


Your novel comes with the tag line 'an unusual romance', Do you think your characters are really in a romantic relationship? Do you think there is a decline in romance because of the 'underlying consumerist streak' as mentioned in your preface that is creeping into urban Indian relationships?
The unusual romance tag line is for the Mayank- Revathi track. (Mayank who is hoping to fall in love in all-Utopian earnestness ironically identifies the image of his 'perfect woman' in an older happily married woman Revathi.) That surely is an unusual romance. Three people, including a woman, have called me in the last five days to say they relate with these characters and have been in a similar situation. Yes, I do agree that romance is on the decline because of an 'underlying consumerist streak'. What people call romance nowadays often tends to be 'arrangement of convenience' encapsulating several factors and including considerations of financial security.

Why did you choose the monsoons as the backdrop of your novel? Do the rains have symbolic significance?
That's because Mumbai is an important character in my book, and the only distinctive season that Mumbai experiences is the monsoon. Moreover, there is an irony here too. While the monsoons are the most romantic season, the characters in my book are all pining for what they feel is missing from their 'love story'. It's actually 'an unrequited love story' set during the Mumbai monsoons. I felt it would make the story feel that much more poignant and the feedback that I've got from readers vindicates my view. Frankly, the story delves into the dark side of love and the rains, though used symbolically, embellish the setting.

Why do all the employees of a matrimonial websites have an unsatisfactory or complicated love life in your book? Was this irony deliberate in the plot?
Yes, the irony was deliberate. I mean, people who are supposed to match-make are grappling with their own set of problems revolving around their own life partners. Having said that let me add that these problems are universal. The characters from whom I derived my inspiration are those working in the entertainment industry, but I'm sure the same characters and problems exist everywhere.

'Akash was gay or that's what everybody believed.' Do you mean to say through your book that homosexuality, bisexuality, experimenting with one's sexuality is becoming a fad nowadays? Would your depiction of homosexuality in your book anger gay activists?
Well, as with other issues, so with homosexuality, I've tried to explore an aspect that has so far not been dwelt upon. I mean, on the one hand, you have gays and lesbians fighting for their rights, on the other hand, it's a fact that certain aggressive elements within their community are virtually marketing it as a fad. The story simply takes an objective view of the trend. Well, if you ask me the cause of this trend, I wouldn't know for sure. A happily married friend of mine had once been coaxed into the act, in much the same manner, as it happened in the book. When I asked him how he gave in, he said he wanted to experience a 'kick'. From that, I gathered that for some people it could be an occasional indulgence just like maybe doing drugs.













Ask our Experts :
Expert Advice, Personality, Immigration (US), Tarot, Hot Couture, Body Care, Matrimonial Laws, Sexual Health, Life, etc, Man vs Woman, Fitness.

Copyright © 2022 Shaaditimes.com - A relationship and wedding portal by Shaadi.com. - All Rights Reserved.
Terms and Conditions