Shruti Hassan - A True Daredevil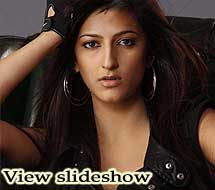 Shree Ashtavinayak CineVision Ltd's latest offering LUCK, directed by Soham Shah is an action adventure, all set to take audiences on a thrilling ride! We are going to see some familiar faces with actors like Sanjay Dutt, Mithun Chakravarthy and Imran Khan. But there is something new about the movie and that is the lead lady, who is none other than actor Kamal Hassan and actress Sarika's daughter - Shruti Hassan.

Shaaditimes speaks with the lovely lass who has style, looks and a dare-bare attitude!


Is Luck your debut in Bollywood?
I had worked in Hey Ram but that was just a cameo. You can say that Luck is actually my debut film because I am facing the camera for the first time and I must admit that this has overcome the phobia, which I had. Now I feel that I have given my best.

Why did you opt for Luck?
Prior to Luck I had many movies come my way, but somehow the script didn't match my choice. What I liked about this movie is, it's not going to be a drama it has more of action. Apart from that, I have got great co-actors and a fabulous director. People will see me as a complete daredevil.

Which stunt in the movie gave you shivers?
I'm petrified by water and I get wild dreams about it. Even when I am bathing in case I splash additional water on my face or head I am scared. Just imagine my state when I was supposed to shoot under water - with sharks! Entering in their home is visiting death but somehow we managed to do the scenes without a single scar.

You have sung in this movie?
Yes!! I find myself lucky because besides acting I was given the opportunity of singing. "Azma Le" is the song, which I have sung. I am really happy about it.

You are wearing a bikini onscreen? Weren't you reluctant?
When Soham narrated the script, I did not even consider the bikini thing as a big deal. It was logical to the premise. While shooting for it, the weather was very weird that day. It was freezing cold, but apart from that it was like any other scene in the film for me.

How was your experience working with big stars?
I was absolutely chilled! When you are facing the camera there isn't anything like star or legend. All of you are the same - an actor who is performing his/her task.

Will Luck really prove lucky?
I don't want to scale its success. I wish it is like by the audience, my acting and overall performance is liked by them and this becomes a stepping-stone for my career.

What kind of actor you would like to be paired with?
I would love to work with actors, not stars (Grins).

Noorussubha Khan
Cotton Kurta with Gold Print
Applique Work Stripes Kurti
Pink Printed Tunic
Rs.1,000 ($20.77)
Rs.1,380 ($28.67)
Rs.769 ($15.97)
Rs.1,200 ($24.93)
Rs.2,135 ($44.35)











Ask our Experts :
Expert Advice, Personality, Immigration (US), Tarot, Hot Couture, Body Care, Matrimonial Laws, Sexual Health, Life, etc, Man vs Woman, Fitness.