Shahid Kapur
''What does a breakup have to do with it?''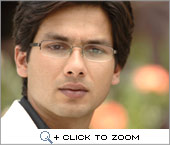 The cute boy of Bollywood, Shahid Kapur is making headlines for one reason or another. His recent release Jab We Met has been a hit and his break up with the actress Kareena Kapoor made headlines for weeks together. Then it was his link ups with Vidya Balan and Sania Mirza and news about Salman being upset with Katrina for signing a film with Shahid. He might not have much to do with these rumours but they are helping keep the star fresh in the public's memory. We talk to him about his relationships... with his parents, girlfriends, brother and more.


What factor do you think has made Jab We Met a hit?
Shahid: The simplicity of the film is a major reason that Jab We Met is such a huge success. It is a very real love story, which could be anyone's life experience. There is no unnecessary drama, emotions or out of the ordinary reactions from any of the characters. Also, people liked the music that played a key role.

They are saying your break up publicity has done the wonders?
Shahid: (frowns) They say a lot of things. But no movie is ever a success due to the personal incidents in the actor's life. If the movie is bad then nothing can save it and similarly, a good movie is solely dependent on a good script and the director's vision. What does a breakup have to do with it?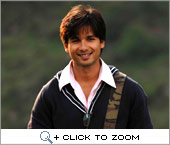 Tell us about your forthcoming ventures.
Shahid: (pauses) There are a couple of projects that I am working on and couple more that I am considering. You will hear about them soon.

Are you going to star in your mother or father's directorial venture?
Shahid: That depends on whether they want to cast me (laughs). When they decide to do it and if I fit the role, then why not? I surely hope though that I get the chance.

Do you think Jab We Met has changed your image as cute faced since you played a soothingly serious role?
Shahid: Maybe. In my first movie Ishq Vishq Pyaar Vyaar I played a teenage lover boy. I did do a lot of serious roles after that but my audience always saw me as a cute face since I started with that image. But as long as the script and director is good, I don't mind playing any role.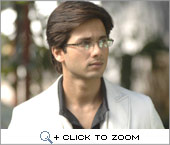 What kind of roles are you looking for in the future?
Shahid: As I said earlier, I will play any role as long as it excites and challenges my realm of know how. I don't want to be stuck in any mould. I want to be versatile yet create an impact.

Tell us about your relationship with your brother Ishaan?
Shahid: It's like any other relationship between two brothers. I pamper him, scold him and we generally hang out, watch movies, play video games and do the brother stuff. Since he is so much younger than me, I am extra protective of him. But he is smart kid and usually does not take my advice (laughs).

Who would you say are you closest to? Someone you could have a heart talk with?
Shahid: I am very close to both my parents. I can talk to them about anything, anytime. They give me genuine, unbiased advice but only if I ask them. Most of the times they just listen and let me pour my heart out.

Can you tell us where the fire is? Vidya Balan or Sania?
Shahid: (Laughs) Right now the fire is only in my movies.

A shaaditimes feature
John Players Signature Line T-Shirt for Men
Spykar's Denim Jeans For Women
Wills Lifestyle Casual Top For Women
Rs.1,999 ($41.52)
Rs.1,095 ($22.75)
Rs.1,899 ($39.45)
Rs.1,495 ($31.06)











Ask our Experts :
Expert Advice, Personality, Immigration (US), Tarot, Hot Couture, Body Care, Matrimonial Laws, Sexual Health, Life, etc, Man vs Woman, Fitness.