Sanober - Not all song and dance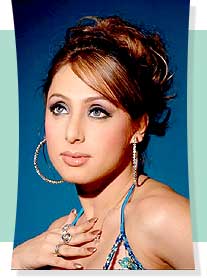 Singer, dancer, actress... not many people in the entertainment industry have so many talents. Many know Sanober Kabir as another 'item girl', but how many know that she actually sings the songs in which she features? Singing is her passion and she wants to carve a niche for herself as a singer. Sanober now reveals some other facets of her charming self.

Childhood dreams
The conversation begins with her childhood dreams. "I was never a strong student academically. My interests always lay towards music and dance. I never wanted to grow up to be a doctor or an engineer. I always wanted to be in the field of entertainment, be it acting or singing," says Sanober quite emphatically.

Current phase of my life
With a clear focus in life, Sanober went ahead to act in films and music videos. More than films, it was her dance moves that drew attention. On the current trend of music videos and where she sees herself in the crowd, she says, "What happens is that a lot of time what I do is mistaken as an item number and people start labelling me as an item girl. This really upsets me, because they don't know that I sing my own songs and feature in my own music videos. It's a pre-conceived notion that if you look a certain way, you are a good dancer, look nice and have a proper figure, then people think that you probably can't sing. People should look at the entire package. The vocal chords maybe as good as their dance moves or as their dress sense. In fact, nowadays even singers like Shaan and Sunidhi Chauhan are concentrating on appearances. But primarily, they are singers and not item girls or guys. For the time being, acting is out. It demands a lot of time and I do not have even 10 days at a stretch to spare, but episodic roles are fine."


I prefer dark men
What does she seek in her Prince Charming? "Nobody is perfect. But he may be a little more perfect for me. He should be compatible, someone with emotional drive. Being rich is not as important as being ambitious. Because eventually only such people become successful. He should have a good sense of humour. I know it sounds cliched but one needs a sense of humour. We are so stressed out in life that at the end of the day you need someone who can lift your spirits and make you laugh. Besides, I prefer dark men. The tanned look turns me on. I somehow am not too attracted to white, fair men. I prefer someone older than me, as I believe that men mature slowly (laughs). I don't see myself having a good, decent conversation with a guy of my age."

The search is still on...


"Often it happens that you think you have found the perfect man but later realise a few traits are not what you were looking for. And for some reasons, internal or external, things don't work out. So these people end up being your friends. They are really good guys, but you are talking about spending the rest of your lives with that guy, so he better be damn good (grins). It's not something you would compromise on, it's not a pair of jeans or a dress." So, is the search still on? "Not particularly searching, but yes, if someone comes along, then I will definitely consider"


I will marry because I want to
"If it has to happen, it will," she says philosophically. But does she believe in marriage? "Eventually, yes. But I am amazed that in India people still go for arranged marriages. Anywhere else in the world even if you were to propose that concept people would be baffled. In India, not only do these marriages take place, but they also work! For me it would be a guy whom I will choose. But I won't make a compromise, just because I have become of certain age or I have achieved so much; I am not going to do it just because I should. I will marry, because I want to"