Our relationship is transparent, clear & candid
Prachee Shah Pandya


A trained classical dancer and a Raheja college alumnus, - Prachee Shah Pandya became a household name through Balaji Telefilms serials - Kyunki Saas..., Kesar and Kayamath.

She has made her identity felt through these serials and gained acclamation. And then she moved on and got married to actor-producer Vishwas Pandya, a known face on television for ad films like Dalda active and Good night.

A shy, quiet, successful and yet simple Prachee reveals her heart to Shaaditimes. Read on to know more...


Your courtship...
We knew each other for three years. We met on the sets of Manzil Apne Apne, where he came to meet the director of the serial. Initially we were just friends, but later cupid struck and today we are happily married.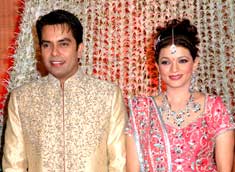 click on the image to zoom


Your wedding...
We got married on December 9, 2005. We had a simple Arya Samaj wedding, but it was a mixture of Marathi and Gujarati rituals as my mother is a Maharashtrian. On our honeymoon we went to Mauritius. It was really an amazing experience.



Something about us...
I am a trained classical dancer. My first break was when I acted in Ravi Chopra's mythological serial as Parvati and after that there was no looking back. I was offered good serials.
Vishwas is an actor-producer. He has called it quits to acting and is now into production.

The relationship...
Our relationship is very transparent, clear and candid, as these are important fuels to keep it going long. We get along very well, as we are very friendly with each other. There is no communication gap between us. And this has really helped our relationship to survive without any hurdles. We do think differently, but we talk it out on those issues when required.

As a spouse...
Vishwas is an understanding husband. He has always gone ahead and done things to keep our relationship strong. I remember once he went shopping for me as I was quite busy and I was unable to do it on my own. I am really lucky to get such a wonderful and understanding husband.

The gift...
He had returned from Cannes festival and he surprised me with a diamond ring. It's nice that such surprise gifts still continue.
I had gifted him a cell phone that he had lost his on the way, while returning from the airport.
On our first anniversary we went to Prague, Czechoslovakia. It is truly an alluring place.

Successful relationship mantra...
You can never plan things in a relationship; you can just fill in the void that remains, but never replace anything. Love and understanding in a relationship are equally important along with trust and respect; to keep the vehicle of relationship run smoothly on the track of life. One must always be a good listener and a good orator too. You must know how to solve the problem by discussion. Nowadays people are getting busier and couples hardly get time to spend with each other, so sitting down to discuss things will really help to end the problems in a happy relationship.


Noorussubha Khan
Wills Lifestyle Casual Top For Women
Pink Printed Tunic
Applique Work Stripes Kurti
Rs.1,380 ($28.67)
Rs.1,495 ($31.06)
Rs.2,135 ($44.35)
Rs.1,200 ($24.93)











Ask our Experts :
Expert Advice, Personality, Immigration (US), Tarot, Hot Couture, Body Care, Matrimonial Laws, Sexual Health, Life, etc, Man vs Woman, Fitness.