Parineeti Chopra Flying High!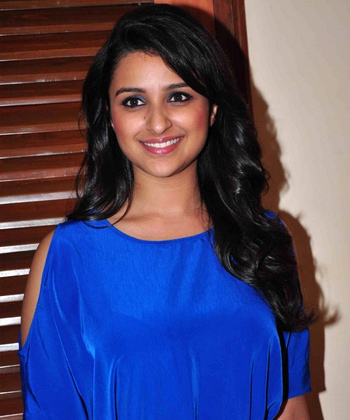 Bollywood has now got another PC. After Priyanka Chopra, its now her cousin Parineeti Chopra on the block. The 23-year-old gorgeous Parineeti Chopra who made her silver screen debut with Ladies Vs Ricky Bahl opposite Ranveer Singh has not just won hearts but also quite a few Best Debutante trophies at award functions. She's just two films old and already has a huge fan following. Ask her where she see's herself five years from now and pat comes the reply, "I wan't to be known as a very good actor, just like my sister Priyanka." Here's more on how she got her big break in Bollywood, how much has life changed for her after 2 films and much more.......

You're two films old in Bollywood. How much has life changed?


It has changed a lot, no doubt! People recognize me as a celebrity now. Earlier I would coordinate interviews for celebrities and today I'm a celebrity. My life has completely changed and I'm loving it!


You had plans of becoming a banker then how did you join as a PR with Yash Raj Films?


Yes, I've worked as a PR person with Yash Raj Films and my job was to coordinate interviews for Ranveer Singh, Anushka Sharma, Shahid Kapoor and Rani Mukherji. Becoming an actor was never on my mind because I was quite obese. I weighed nearly 85 kilos. In fact, I always had plans of becoming a banker. I studied banking in England and graduated in 2009, that's when recession had just hit. So, I wasn't getting a good job and I decided to come back to India on a holiday or intern for a few months and then return.
Around this time, Priyanka was shooting for Pyaar Impossible. I went on the sets one day and thought of applying for a temporary assignment in YRF in the marketing and promotions team. I thought I could do this for six months and then return to England. But when I actually saw an actor's job closely, I started developing a liking for acting and thought I could do this because I knew I wasn't camera conscious.

You are a pretty face. Didn't people suggest you to lose weight and try acting, since you had your sister's backing already?
Oh yes! People would say things like, "Your cousin is a star, why don't you get into acting as well?" and I would find that pretty annoying.


How did you get a break in Bollywood?
Since I was working as a PR with YRF, I had become good friends with Maneesh Sharma (Director of Band Bajaa Baraat). One fine day he told Aditya Chopra that he wanted me to play Dimple's character in his film. He then asked me to do a dummy audition just for fun and I had absolutely no idea that he would share the tape with Aditya. A few days later, Maneesh called me saying I had to sign a three-film deal with the studio! I consider myself extremely lucky because not everyone gets a chance like I did.

Do people often compare you with Priyanka?
Oh yes, they do! But, how do I tell people that I can't be like her. We're two different people. I want to be known as a very good actor. I'm glad I've got such a lovely sister like Priyanka. She does act like my badi behen and give me advice because she wants me to do well in my career. In fact, after she watched Ladies Vs Ricky Bahl, she was really happy for me. When she entered Bollywood, she had absolutely no backing, but I'm lucky because I have her, Maneesh and Aditya around me.

How was it working with Ranveer and Anushka?
It was lovely! I still remember, on the first day on the sets, I had a scene with Ranveer and Maneesh was a bit worried about whether or not I'll be able to do it. But, I just walked in and gave my shot. I was comfortable in front of the camera and Ranveer. Also, it was great working with Anushka. She never made me feel like she's senior to me.

How does it feel after the success of Ishaqzaade?
I feels good. I'm glad I got to do this film, which is very different from my first film. I'm looking forward to do different genres. Also, I'm happy that the audience appreciated my work in Ishaqzaade. What more would an actor want?

In Ishaqzaade you have a few bold scenes. Were you prepared for kissing scenes when you took up acting?
I believe, as an actor you need to do what your director wants you to do. After all, he knows best. Moreover, as an actor you need to be prepared for certain things, be it kissing onscreen or wearing certain clothes, if needed. I can't say no to the director, if the script and my character demands it. There are some people who're not comfortable doing certain things on screen, but that's okay. If I'm comfortable doing it, I'll do it.

Was it difficult to play your character 'Zoya' in Ishaqzaade, since you were brought up in a metro city?
I think if you love the character, you automatically get into it. Arjun and I had become Param and Zoya for almost three months and we completely loved it. I realised how different relationships are in a small town, unlike in metro cities. It was a challenging role for me, definitely!

How was it working with Arjun Kapoor?
It was fabulous! Since we're the same age we got along really well. We were very comfortable with each other and it was great fun on the sets.


There have been rumours about 'link-ups' between you and Arjun. What do you have to say about that?
I've worked as a PR person, so I know that media writes whatever the star says and there's nothing wrong in that. So, just because I say I love Arjun doesn't mean we're going around. I meant he's a great person and I truly love him as a buddy.


Vipasha Pillai
Applique Work Stripes Kurti
John Players Signature Line T-Shirt for Men
Wills Lifestyle Casual Top For Women
Rs.1,380 ($28.67)
Rs.1,200 ($24.93)
Rs.1,095 ($22.75)
Rs.1,395 ($28.98)











Ask our Experts :
Expert Advice, Personality, Immigration (US), Tarot, Hot Couture, Body Care, Matrimonial Laws, Sexual Health, Life, etc, Man vs Woman, Fitness.