Love makes you complete, says Nigaar Z Khan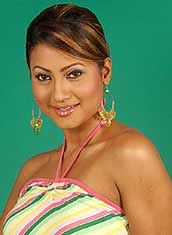 Acting was unplanned, but when it happened, she grabbed the opportunity with both her hands. After she was selected as the Femina Elite model finalist, Nigaar moved to Mumbai. She established herself as a model and after this, there was no looking back.

She kicked off her career with Zee TV's much talked show Lipstick . Today, she has Jeet , Prathim , Ek Ladki Anjani Si , Ayushmaan and Kasamh Se in her kitty. Shaaditimes catches up with her over a conversation and here is what she has to say...

Over to Nigaar...
I came from Pune to Mumbai a few years back. I began my career on the small screen doing some item songs, television shows and cameo roles. I acted in Paritosh Painter's drama See No Evil, Hear No Evil, Speak No Evil . I am actually known for my negative characters on screen.


Her take on love, lust, aggression and passion in a relationship...

Love: Love is something that makes you complete. It is a very important factor of my life and cannot be defined. I think love is all around me.

Lust: Lust actually means only a physical attraction and nothing more. It is true that both emotional and physical attractions are equally important.

Aggression: Violence, hostility, and anger are not good. They only generate negative energy. I don't let negative energy come near me. Aggression haunts oneself.

Passion: Passion is something that one must have. It helps complete one's relationship and is a very important factor of ones life.

Nigaar is known for her vampish roles, stepped out of this image by playing the role of a sacrificing Divya in Ayushmaan . Lets know more about her persona in real life.

I love being around people
I am a very simple person who has her head firmly on her shoulders. I am rooted to earth and don't think about future or past. I take each day as it comes. I like living in the present. I want people around me. My family and friends are very important to me. I also enjoy my space. I need some one by my side to guide me.













Ask our Experts :
Expert Advice, Personality, Immigration (US), Tarot, Hot Couture, Body Care, Matrimonial Laws, Sexual Health, Life, etc, Man vs Woman, Fitness.

Copyright © 2019 Shaaditimes.com - A relationship and wedding portal by Shaadi.com. - All Rights Reserved.
Terms and Conditions