I am very conservative - Moulli Ganguly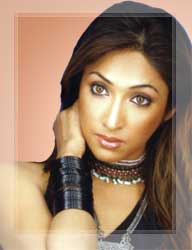 You saw her in the T.V. serial, Milan on Sony T.V. many years back, opposite Rohit Roy. And today, you see her in Sarrkaar, on Zee T.V. with Rohit Roy again. Recently she made her film debut in Rituparno Ghosh's Raincoat. Her most memorable performance has been as Shaina in Kahiin Kissi Roz. She believes that hard work is the only investment that never fails in the long run. "Making the right choices is an art," she says.

We met up with Moulli Ganguly and this is what she had to say...

How has the transition from Milan to Sarrkaar been?

The transition has been smooth. I can call it a "growing up phase." I feel that I have grown tremendously as a person and as an actor. I have learnt a lot over the years. I have learnt that making choices is easy but making the right choices is where the problem arises. A lot has happened from the time Milan got over. I did Karm on SAB T.V., Saakshi on Sony T.V. and my latest was Kkusum. It has been a good experience. I am looking forward to meeting more directors and doing better projects so that I can grow even more.


You have worked the most with Balaji Telefilms. How has the experience been?
It was amazing working with Ekta Kapoor and her team; it always has been. Ekta noticed me in Milan and gave me Kahiin Kissi Roz although I was only one serial old. I work with people when I think there is quality work being done. On the sets of Kahiin Kissi Roz, it was a very healthy working atmosphere. When an actor's show runs for 3 years at a stretch with a good response, it feels really good.

So, playing Shaina in Kahiin Kissi Roz was the turning point in your career?
Yes, undoubtedly. Today, when I step out on the streets, people call me Shaina. I have finally made a mark on audiences. Shaina seems to be my second name. (Laughs) And as I said earlier, I am thrilled with the response I got after playing this character.

You played Sheela in Rituparno Ghosh's Raincoat. What was it like working with him?
The experience was phenomenal. One may think that when Ajay Devgan is involved in a project, a supporting actor might get sidelined. But, this was not what happened. I am glad that I got a chance to work with a director who was not at all fast-tracked. He gave importance to his final product, which did not include only Ajay Devgan and Aishwarya Rai but also me. There was absolutely no stress involved in working with Rituparno Ghosh and his team. It makes a lot of difference when you work with a film director who is passionate about his work.

How similar are Kruttika (Sarrkaar) and Moulli? There is not much that we have in common. I am a very practical person. On the other hand, Kruttika is too honest, too straightforward. She cannot take it when something wrong happens in front of her. She is too morally upright. I feel that these days the concept of values and morals is diminishing at a fast pace. This is why the audiences might find it difficult to relate to the character of Kruttika. People who are very bound by morals and ethics are those who go for a toss. Although, this does not mean that one should not be ethically right. It is very important to stand up for what you do and who you are.

Do you believe in the institution of marriage? Do you think that it is fading out?
I definitely believe in the institution of marriage. And, no, I don't agree that it is dying. This is because I am very conservative and old fashioned. I come from a middle-class family, where we are made to believe that tradition doesn't change so easily.

Are you in any romantic relationship right now?
Not really... At the moment, I don't want to get into anything serious that may lead to marriage. I am definitely open to the idea of settling down but maybe later, after a year or two. But, at the moment, I want to concentrate on my work.

Any interesting future projects?
I believe in doing only one project at a time. This helps me give my best shot to whatever I am doing, be it a T.V. serial or a film. I want more time for myself. A few years back, when I was new in this industry, I worked day in and day out to make a mark for myself. Today, when I think I have achieved something, I think it's time to spend some time with myself and meet more people. I want to meet good directors; I am also open to doing theatre. If good script comes my way, I will definitely do it.


Noopur P Pal
John Players Casual T-Shirt for Men
Wills Lifestyle Casual Denim For Men
John Players Signature Line T-Shirt for Men
Rs.995 ($20.67)
Rs.1,695 ($35.21)
Rs.1,095 ($22.75)











Ask our Experts :
Expert Advice, Personality, Immigration (US), Tarot, Hot Couture, Body Care, Matrimonial Laws, Sexual Health, Life, etc, Man vs Woman, Fitness.