Coming of age - Kim Sharma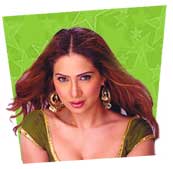 She stole thousands of hearts as the extrovert, heart-on-the-sleeve gal, Sanjana, in Mohabattein . Kim Sharma has come a long way since her debut vehicle, all set to portray a love struck fisher-woman, Bijli, in her forthcoming movie 'Tom, Dick and Harry '. She's ready to jump into the big league. On the personal front, there have been rumours about her tying the knot with an Indian cricketer. She has been absolutely tight lipped about it, neither denying it nor accepting it; but she is certain that marriage is nowhere on the cards any soon. ShaadiTimes tries to get the news from the horse's mouth.

What are your expectations from 'Tom, Dick and Harry '?
I have nil expectations from all my movies. I just act to the best of my abilities and give my 100%. The rest is up to the audience. They're the final adjudicators.

The film is based on three lead actors, all of them male. Infact, even the female lead, in a way, is Celina Jaitley, whom all the three men are trying to woo. Why did you agree to do such a un-prominent role?
For me the length of my role doesn't matter. It may sound like a cliche, but I look for satisfaction in my role. In 'Tom, Dick and Harry ' I do not have a longish role, infact, I do not have a very prominent role, but the character is so well etched out and it's something that I have not done before. I take each role as a challenge. I play a typical fisher-woman, called Bijli, in this movie. She is smitten by Tom, the character played by Dino. Bijli has her own story to narrate in the film about how she goes around chasing Dino and tries to woo him.

How was it working with such a huge star cast?
The shoot was complete fun. I can't narrate one or two incidents as such, but we had a blast while shooting for the movie. It is easily one of my most memorable shooting experiences. Deepak (Tijori, director), Dino (Morea, co-star), Jimmy (Shergill, co-star), Anuuj (Saawhney, co-star), Celina (Jaitley, co-star) and the whole unit was so much fun to work with.


Even after 4 years in this industry, one cannot say that Kim Sharma is an established actress. Why is that so?
I have a lot to achieve, no doubt. Each movie is a learning experience. As far as my foothold in this industry is concerned, I have been lucky to work with good, established names. I must confess though that my PR sucks! I do not move in the right circles or I'm not present at the right places at the right times, yet considering all of that, I am satisfied with what I have done and what I am doing. My performances have begun to be noticed and I've been offered movies in regional languages also. I have done South Indian movies. I was offered a Bhojpuri movie, but I refused.

There have been rumours that you are planning to tie the knot soon. Is it true?
Ofcourse no. Where do you people get such news from? I have no plans of settling down, atleast in the near future. And no personal questions please.

What do you do when you are not acting?
I like music. I am a Hindi music fan. I love listening to Hindi songs, be it new or old. I also love to travel. New York and Paris are my favorite places. New York because it is so buzzing and so happening. It is always on the move. It is a very charming city. Paris is so romantic. When people say it is the most romantic city in the world, they are absolutely right. If you're in Paris, you can feel that love is in the air.

You are considered a style icon. What is your style mantra ?
That's flattering. For me style is being yourself. I don't think I have any extra-ordinary looks or a body. I just be myself, that's it.

You are starring in a movie with Rekhaji . Tell us something about that film.
It's called 'Kudiyon Ka Hai Zamaana '. It's a total chick flick. It stars Rekhaji and Mahima Chaudhary, besides me ofcourse. I cannot reveal much about this movie at this point of time. We will talk about it when it is about to be released.


Sagar Patel
Wills Lifestyle Casual Top For Women
Applique Work Stripes Kurti
John Players Signature Line T-Shirt for Men
Rs.1,380 ($28.67)
Rs.1,395 ($28.98)
Rs.1,200 ($24.93)
Rs.1,095 ($22.75)











Ask our Experts :
Expert Advice, Personality, Immigration (US), Tarot, Hot Couture, Body Care, Matrimonial Laws, Sexual Health, Life, etc, Man vs Woman, Fitness.