'She is a fine actor', says Poorva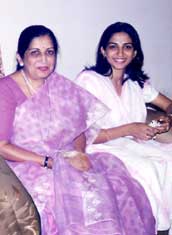 " I'm thankful to my mother;
For always standing by my side
For letting me cry on her shoulder,
And for being my greatest guide.

Without my mother around,
I wouldn't be the same.
I am the happiest girl I know
And my mother is to blame."
-Kristina M. Calla.

She is a well-known Marathi actress and her daughter has gained nationwide recognition as Gunn in the popular daily soap - Kahaani Ghar Ghar Ki.


Over to them...

On sharing the same frame...

Kanchan
It was a telefilm- Mana Sajjana for Doordarshan, produced by her father. That was the first time we came together. Poorva had made a small appearance in that film.

Poorva
Yes, it was only that time we shared the same frame. I can hardly remember anything. Now if I get a chance to share screen space with her, I shall grab it with both hands.

Your bond with each other...

Kanchan
We are more than just friends. We share a very open relationship. She is more close to her papa, as all daughters are. With me she is friendlier.

Poorva
We share a fantastic bond. My mummy is my best friend. We almost share everything with each other. There is hardly anything about me that she doesn't know of. She is my friend, philosopher and guide, apart from being my mother.

About each other...

Kanchan
It gives me pleasure to talk about Poorva. The place she has created for herself in such a short span of time is remarkable. Actually she never wanted to act. She was doing her C.A. when she was offered a role in a serial. The role just came her way, she gave her shot and today she is here.

As a child, Poorva was a complete tomboy. She was never the one who loved to play with toys, dolls like every girl. She loved cricket.

When she got married, I told her "if your in-laws are against your profession than you must give up your job."

"Careers are important, but not more then family. If your family is fine with it, then go ahead with your career."

Poorva
There is a lot to say. I will run short of words speaking about her. I am proud of my mother. There are lots of things I can learn from her. She is a fine actor and a great mother too. Managing family and career is like walking on a tight rope. And you have to keep equal balance on both the sides.

Now that I have become a mother, I can understand the hardships my mom went through while bringing us up. It is not easy to manage both. We are lucky to get such understanding and caring in- laws.


Vaibhavi V. Pradhan
Wills Lifestyle Casual Top For Women
Wills Lifestyle Casual Top For Women
John Players Casual T-Shirt for Men
Rs.1,495 ($31.06)
Rs.1,395 ($28.98)
Rs.995 ($20.67)











Ask our Experts :
Expert Advice, Personality, Immigration (US), Tarot, Hot Couture, Body Care, Matrimonial Laws, Sexual Health, Life, etc, Man vs Woman, Fitness.