Deepshikha: I live a juggler's life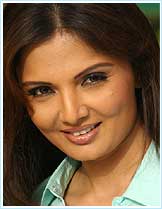 As Deepshikha entered the film industry she set the film world ablaze, and her resemblance to Parveen Babi was only one of the reasons. Be it films or the small screen, her roles have been vicious and seductive. Looking at her, one would hardly believe that this woman with a positive and happy go lucky attitude is mother to two lovely kids.

In a candid interview, Deepshikha opens her heart to shaaditimes.

Parveen Babi or Deepshikha...
(Laugh) Deespshikha of course! I know people find a huge resemblance between Parveen Babi and me but your identity is your identity, right? I feel flattered when people compare me to such a diva.


How did this start?
Well... even in high school my friends used to tell me I resemble Parveen Babi. This continued through college, and even to this date. I think she had amazing looks and exceptionally good hair. Initially I would get irritated but later on I took it as a compliment. And believe me, once I started getting roles, people started recognising me as Deepshika. Aren't you addressing me as Deepshika now?

Reel to Real life
I am very different from my reel life. I am very positive, alert and a fighter (no mara mari type). By this, I mean I try to overcome difficult situations. I bounce back, as a person who believes in... live and let live. I am a happy go lucky kind. As a mother, I enjoy every moment of motherhood; I have missed this during my childhood so I want my children to be brought up well with all the sanskars and culture. The bonding that a mother shares with her children is very important and different.

I am possessive about...
(Contd)...my children are everything to me. I have seen my childhood, so whenever my kids require me I am ready... Whether taking up their studies, playing with them, taking them out and pampering them, these moments are very basic which every mother wants to treasure.

Achievement
My Independence is my biggest achievement. I am a very content person and my profession has given me a lot of happiness. I am blessed with two beautiful children, my daughter Vidhika and son, Vivaan - what more could I ask for. I have been balancing life like a juggler. I can take my career in one hand and balance it with my family on the other, which is what really satisfies me from within. I count these as my true achievements."













Ask our Experts :
Expert Advice, Personality, Immigration (US), Tarot, Hot Couture, Body Care, Matrimonial Laws, Sexual Health, Life, etc, Man vs Woman, Fitness.

Copyright © 2020 Shaaditimes.com - A relationship and wedding portal by Shaadi.com. - All Rights Reserved.
Terms and Conditions