Anushka Sharma Opens Up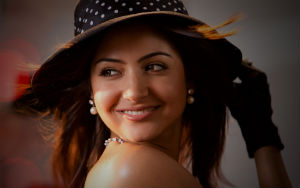 After a successful film

Band Baaja Baaraat

last year, this Yash Raj sweetheart is all geared up for her next release

Ladies vs. Ricky Bahl

opposite Ranveer Singh once again. So far the actress has done 4 films, starting right from

Rab Ne Bana Di Jodi

(2008),

Badmaash Company

(2010),

Band Baaja Baaraat

(2010),

Patiala House

(2011) and now her latest offering

Ladies vs. Ricky Bahl

, in which she plays a con girl…

ShaadiTimes spoke to the actress about her new release, B-town's hot property Ranveer Singh, future projects and much more...
Starting with

Rab Ne Bana Di Jodi

to

Band Baaja Baaraat

. How's the journey been so far?
Oh! it's been fantastic, especially for someone like me who never thought of entering the world of films. Moreover, I'm glad that I got an opportunity to work with one of the best production houses in the country. Also, I'm happy that I'm working with people whose policies and values I respect and vice versa. The best part is that all my films with Yash Raj have been completely different and it's given me a chance to portray various characters, which every actor wants to do.
As far as

Band Baaja Baaraat

(

BBB

) goes, we never expected it to be such a huge hit. People appreciated my work in the film, but it wasn't a one man show. It was a team work.

Jab hum bana rahe the iss film ko

, energies were real good. It was a young team and everybody was there to prove themselves. I don't think a filmmaker can make a film with a mindset that it's going to be a blockbuster. You just make films with a clean heart and because you're in love with the script and the characters and that's how

BBB

was created.

Tell us something about

Ladies vs. Ricky Bahl

(

LVRB

). How was it working with the same team again?
Since I already knew director, Maneesh Sharma, I was sure that his next film would be totally different from

BBB

. So, when I read the script of

LVRB

I said to myself, see I knew he's not going to make another

BBB

. This film is just the opposite of

BBB

and so are the characters.

LVRB

is quite an exciting film, very stylized and a film which has intelligence, yet it has emotions and a lot of freshness because of the three new girls in the film. I think

sabki

almost

pehli

film

hai

and these new faces have added so much of freshness to the film. So, yes the cast, director, technicians are all the same who worked for

BBB

, but the film is very different. As far as

LVRB

goes, you must have seen a lot of rom-com's but if you're interested in watching a rom-con, you must watch this film.

Tell us about your character Ishika in

Ladies vs. Ricky Bahl

?
When a girl lives alone in a city like Mumbai, Bangalore or Delhi, I think she naturally develops a sense of independence, learns to guard herself and becomes street smart. It's a very natural progression, so even if you come from a protected family and start living alone in Mumbai you tend to become a strong girl who knows how to take care of herself. This is what for me Ishika is. She's a very strong, intelligent and an adventurous girl, who loves life and at the same time has her head on her shoulders. She's carefully guarding herself and is street smart, quirky and intelligent. A lot of girls will be able to relate to Ishika.


How was it working with Ranveer in

Band Baaja Baaraat

vs. Ranveer in

Ladies vs. Ricky Bahl

?
Well, Ranveer and myself, we've known each other better over the past two years, even on a personal level as friends. So, there's a little bit of understanding between us, which I haven't experienced with anyone else. Probably, that's because we've worked together in more than one film. So, I know exactly how he'll approach a particular scene and vice versa. We're two different people in real life and also when it comes to work and I believe that is what creates a very nice energy onscreen.
In fact, when we were shooting for

BBB

, initially we had a lot of complaints with each other. He wasn't comfortable with my way of working, because Ranveer does a lot of rehearsals before the final take, where as I'm the opposite. So, we would get irritated with each other (laughs). But, now things have changed of course! We've developed an understanding for each other as actors.

BBB

was a difficult film for both of us, so there was more anxiety and nervousness but today, we are more relaxed and I think we've worked better as a team in

LVRB

than in

BBB

. In short, Ranveer and me, we have this certain undefined chemistry which even I don't understand. This time, you'll see that chemistry in our body language with silence and reactions. That's the main difference between working with Ranveer in

BBB

vs. Ranveer in

LVRB

.

Do you remember any fun incidents on the sets of LVRB?
Oh yes, I remember Ranveer and myself, we had fallen off a jet ski while shooting for a scene. That was such a funny incident for me, as I'm a good swimmer. So, when we fell off and the jet ski toppled, we were both underwater and I was flapping in the water. After we were out, I was wondering why the hell was I flapping? as I know how to swim and for a while I had forgotten that I could swim.
In fact, we even fell off a scooter once, which I was riding. It was pretty bad, as I hurt my knees and elbow and Ranveer hurt his leg. On reaching the hospital we realised that Ranveer actually had a bad burn and he was quite sick at least for the next three days. So, when we think of all that now, we find it really funny.

You're looking absolutely fantastic and fit in the film. What's the secret?
Well, I'm just genetically blessed. I don't have to work hard to lose weight. I'm just toning up for a healthier look that's it.

Are you really single?
Of course! It's just that I'm currently not interested in men. I'm just concentrating on my career. I think, there's always a right time for everything and I don't think the time is right for me now.

What kind of qualities you would want your partner to possess?
I think he should be confident, self-assured and should be able to handle my success in a positive way. Most importantly, he should be supporting and loving.

Are there any other projects in the pipeline?
I'm busy with Vishal Bhardwaj's

Matru Ki Bijlee Ka Mandola

, which is a dark comedy. You'll see me opposite Imran Khan in the film, who's playing Matru's character and I'm playing Bijlee. On the other hand, Mandola is played by Pankaj Kapur who happens to be my father and Mandola is also the name of a small town where the film is set. The film revolves around these three characters set against a political backdrop and has a tone of black comedy to it. Apart from this, I'm also working on Yashji's project opposite Shah Rukh Khan and Katrina Kaif, which is yet to be titled.

Vipasha Pillai
John Players Casual T-Shirt for Men
Wills Lifestyle Casual Top For Women
Spykar's Denim Jeans For Women
Rs.1,999 ($41.52)
Rs.995 ($20.67)
Rs.1,495 ($31.06)
Rs.1,899 ($39.45)











Ask our Experts :
Expert Advice, Personality, Immigration (US), Tarot, Hot Couture, Body Care, Matrimonial Laws, Sexual Health, Life, etc, Man vs Woman, Fitness.