A woman of substance - Anju Mahendru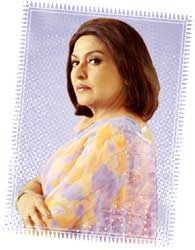 A tete-a-tete with one of Bollywood's most enduring woman, in which she candidly talks about what she loves most in life and reveals how she is one of filmdom's few great survivors

She's one of contemporary Bollywood's glam gals of yesteryear, a survivor who has blossomed under the spotlight. From a star-struck teenager flung into the limelight, anticipating marriage in the 60's with the then superstar Rajesh Khanna, to today's elegant TV personality, Anju is lauded as a social activist, animal-lover and a much-sought-after film/television actress. Now there is no denying yesterday's Anju Mahendru has morphed today into an elegant, earthy and yet disarmingly sophisticated woman of substance.

Making it on her own
In an industry where public (and private) memory is proverbially short, Anju's relationship with Rajesh has filled reams of gossip magazines and tabloids and continues to peak the curiosity of young and old alike. Perhaps now it's more like nostalgia, but in Rajesh's glory days, which mandated an entourage of press, it must have been tough to deal with, especially as it was mostly in the glare of cameras and popping flash bulbs. From the moment her relationship with the superstar soured, through a marriage that didn't work out, her close friends and peers agree Anju has handled each situation with élan. Never a word out of place and that is truly an achievement for a lady who's literally spent her entire adulthood under the glare cameras, hounded constantly by the paparazzi. About Rajesh, Anju says quietly, "We are good friends even today and share a mutual respect for each other." And those who know her intimately will confirm she really means it because Anju Mahendru generally never says things she does not mean.

Sitting with Anju in her elegant bungalow in the Mumbai suburb of Juhu, it's hard to believe she entered the film industry as a bubbly teenager in the late sixties. Her list of film and TV roles is not just long, but also substantial, including many prestigious banners and projects. Serials like Astitva, Kkusum and movies ranging from Jewel Thief to Saathiya and most recently Page Three, wherein she played a cameo of a socialite, are just a few highlights from her long and often chequered career.

Anju certainly doesn't look fifty-plus and can easily give international models a run for their money. Chiseled features and her delicately built diminutive stature belies a strong yet sensitive personality. And also hides an equally intriguing character. For starters, we agree to discuss everything under the sun.


Neither a loner not lonely
When she's off the sets you can find Anju pottering around her garden to unwind and relax. "I love plants and nature and gardening comes naturally," she admits. A self-confessed insomniac, she has become a compulsive reader and can often be found with a book in hand till 4:00 am. She loves vegetarian food and doesn't mind to drink, though only occasionally. She's single today, but has an active social life. This is our cue to find out, is she a loner?

She shrugs off the insinuation, "I am neither a loner nor lonely. I have many friends who I socialise with and some of them just drop in when I'm not working. Also, because of an extremely hectic schedule with the many charities I extend my help to, I really don't have much time for loneliness!" Her pet vices are a little friendly gambling now and then, and smoking cigarettes, which gives her that certain Greta Garbo mystique. "Mind you, I only gamble within my means," she reveals and then adds, with a sly grin, "And I never lose."

Her favourite city outside Mumbai is London. "I love the food at Espinal, located at Baker Street and Les Ambassador, which has the best food quality wise," she reveals. "But I'm not into sea-food as I am allergic to it and I guess I am really a daal chawal person," she admits with candour and a rueful smile.













Ask our Experts :
Expert Advice, Personality, Immigration (US), Tarot, Hot Couture, Body Care, Matrimonial Laws, Sexual Health, Life, etc, Man vs Woman, Fitness.

Copyright © 2020 Shaaditimes.com - A relationship and wedding portal by Shaadi.com. - All Rights Reserved.
Terms and Conditions