Anjori Alagh the budding star
On live-in relationship, marriage and more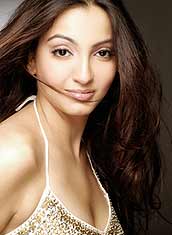 Anjori, daughter of Maya and Sunil Alagh is all set to rock, with her debut film 'Life Mein Kabhi Kabhie'. Shaaditimes caught up with the pretty lass at Café Coffee Day. She looked quiet cool and relaxed enjoying the limelight. Anjori Alagh is sure to make your heart skip a beat. Hold on to your hearts to read this.

Tell us something about your role?
The character I play Ishita, is of a young girl, who thinks money is the only way to happiness. She works as a journalist for a magazine and wants to make it big. She just wants to make it big in any way.

How did you get this role?
I approached Vikram Bhatt, gave him my photos, and got a call from him a few days later. He read out my role to me, I liked it and here I am!


Anjori, you name is very 'alag', what does it mean?
It means moonbeam.

What is your favorite past time?
I am not much of a party animal. I love to watch movies, read at times, cook, and love to play with my pets. I love to spend time with my family or friends. And yes, I love to paint.

What are your strengths?
I am very focused regarding my aims and ambitions. I know what I want to do. Apart from that, my strengths are my family, friends and people close to me.

Your weakness?
(Thinks) There is a long list. I get very hyper at times, I trust people easily. I guess I am very emotional too. Many things affect me.

What is your favorite food?
I love Japanese food. I also love Indian food too.

Do you love to cook?
Yes, I love to cook. I can cook dal, chawal, bhindi ki sabji and pasta. In fact I can cook everything and anything apart from Chinese and cakes. I am horrible at cooking these types. I have tried them, but every time it gets worse.

You said you are emotional. Do you get angry soon?
I get angry. Actually when I get very angry, I cook a five-course meal! That's how I control my anger. My anger is like a rocket. The speed in which I get angry, I cool down that soon.













Ask our Experts :
Expert Advice, Personality, Immigration (US), Tarot, Hot Couture, Body Care, Matrimonial Laws, Sexual Health, Life, etc, Man vs Woman, Fitness.

Copyright © 2022 Shaaditimes.com - A relationship and wedding portal by Shaadi.com. - All Rights Reserved.
Terms and Conditions